Seat Leon >> Removing and installing window regulator
Special tools and workshop equipment required
Torque wrench - V.A.G 1331-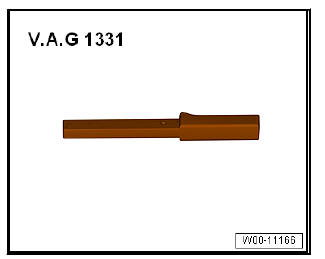 Removing
Note The sequences below describe the processes for removal and installation for the left side of the vehicle. The corresponding sequences for the right side are similar with the exception that, where applicable, the scope of the process is written by yourself.
Open the front door.
Removing interior trim of front door.
Remove the speaker; Front left base speaker - R21- .
Remove the interior protection cover (front door).
Connect the electric connector of the electric window switch.
Switch on ignition.
Align the window so that the retaining clips -arrows- of the window clamping jaws are viewed.
Switch off the ignition and separate the connector of the window riser switch.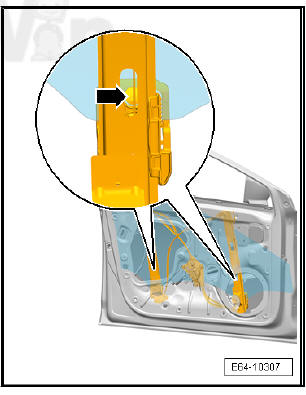 Use screwdriver or similar tool to press actuator -3- outwards through opening in window guide -1- and hole in door window -2- in order to release actuator.
Pull the door window upwards out of actuator.
Secure door window against sliding down with adhesive tape.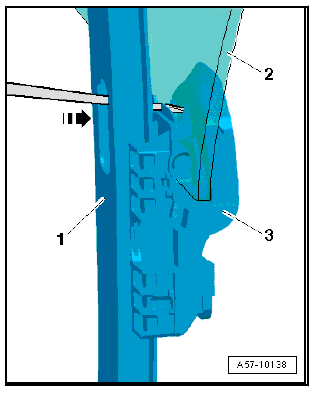 Unclip the plug from the outlet -3- remove the fixation clip and unplug the plug.
Remove screws -1-.
Remove the window lifter motor -4- from the mount -2-.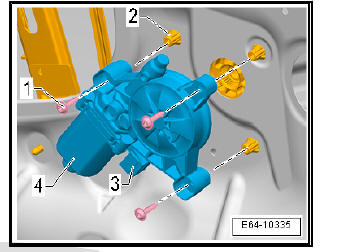 Remove the plug .
Loosen hexagon nuts -1-.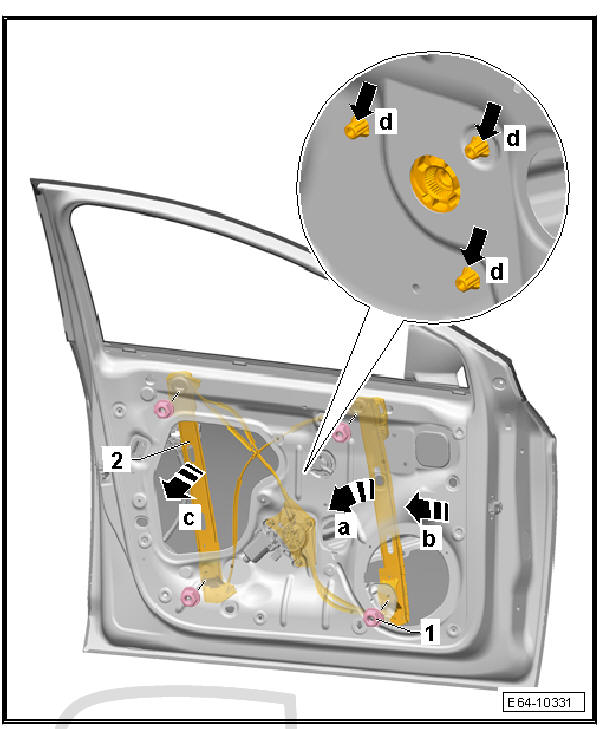 Release locking hook of cable drum -arrows a- and insert inside the door.
Detach the fastening clip of the window lifter cable from the door frame.
Turn the window lifter motor -2- slightly in direction of -arrow a-.
Guide the window lifter motor to the door shaft -arrow b- and remove -arrow c-.
fitting
Fit in reverse order from removal, remembering the following:
Use the tightening torque of the screws