Seat Leon >> Selector lever locking
The selector lever lock prevents gears from being engaged inadvertently, which would cause the vehicle to move.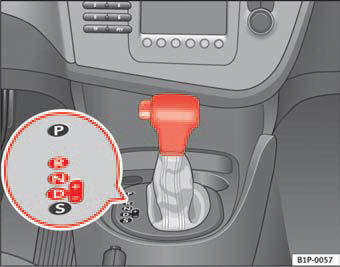 Fig. 120 Deactivating the lock
Releasing the selector lever lock
– Start the vehicle.
– Press and hold the brake pedal, at the same time press the button on the selector lever.
The lock is only activated when the vehicle is stopped or at a speed of less than 5 km/h. At higher speeds, the lock is automatically released in position N.
For rapid changes of position (e.g. from R to D) the lever will not lock. If the lever remains in the position N more than one second then it is locked. With the automatic lock, the lever is prevented from passing from P and N to any other gear without first pressing the brake pedal.
The selector lever must be put in the position P in order to remove the key.