Seat Leon >> Loosening and tightening drive shaft bolt
Special tools and workshop equipment required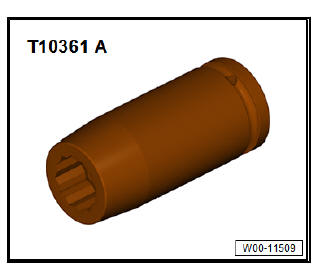 Rotation angle spanner - V.A.G 1756 A-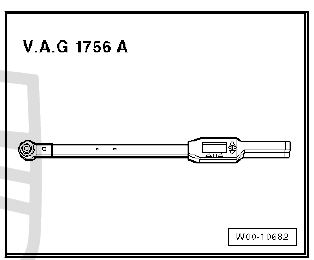 Caution
Wheel bearings must not be subjected to load after loosening bolt securing drive shaft at wheel hub.
If they have to support the weight of the vehicle they will be damages and their service life will be reduced.
It is not permissible to turn drive shaft bolt more than 90º anticlockwise if vehicle is standing on its wheels.
Do not attempt to move the vehicle without the drive shafts fitted; this would result in wheel bearing damage. If it is necessary for a vehicle to be moved, please comply with the following instructions:
Install an outer joint instead of the drive shaft.
Tighten outer joint to 120 Nm.
Loosen outer bolt on drive shaft.
With the vehicle still standing on its wheels, loosen the bolt by maximum 90º in order not to damage the wheel bearing. Use the 24 mm socket insert - T10361A- to do this.
Raise vehicle so that wheels are off the ground.
Have second mechanic apply brakes.
Remove bolt -arrow-.
Tighten outer bolt on drive shaft.
Renew outer bolt for drive shaft.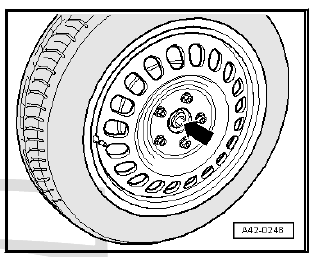 Note It must be ensured that the wheels do not yet touch the floor when the drive shaft is being tightened. Otherwise the wheel bearing may be damaged.
Have second mechanic apply brakes.
Tighten bolt to 200 Nm.
Lower vehicle onto its wheels.
Turn bolt 180º further.