Seat Leon >> Checking outer constant velocity joint
The joint is to be dismantled to renew the grease if it is heavily soiled, or to check the running surfaces of the balls for wear and damage.
Removing
Mark the position of the ball hub relative to the cage and the housing before removing, use an electric pen or a softening stone -arrow-.
Swivel ball hub and ball cage and take out balls one after the other.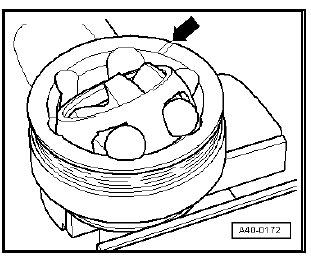 Turn cage until the two rectangular windows -arrow- lie on joint body.
Take out cage with hub.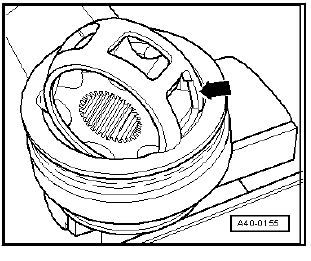 Swivel one segment of the hub into one of the cage openings.
Remove the hub from the cage.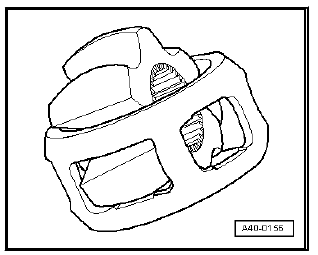 Note
The six balls for each joint belong to a tolerance group. Check stub axle, hub, cage and balls for small indentations (pitting) and traces of seizing.
Too much circumferential backlash in the joint becomes noticeable during load change jolts; in such cases, the joint must be renewed.
Smoothing and traces of wear of the balls are no reason to change the joint.
Installing
Carry out installation in the reverse sequence, noting the following:
Press half of the total amount of grease from repair kit into the joint body.
Fit cage with hub into joint body.
Note The cage must be placed in the correct position.
Fit opposite balls one after another. In doing so, take care to re-establish the original position of the ball hub relative to the cage and the joint body.
Fit new circlip in shaft.
Distribute remaining grease in boot.