Seat Leon >> Dismantling and assembling drive shaft
Special tools and workshop equipment required
Tightening plate - VW 401-
Tightening plate - VW 402-
Die - VW 408 A-
Die - VW 411-
Tube element - VW 416 B-
Thrust pad - VW 447 H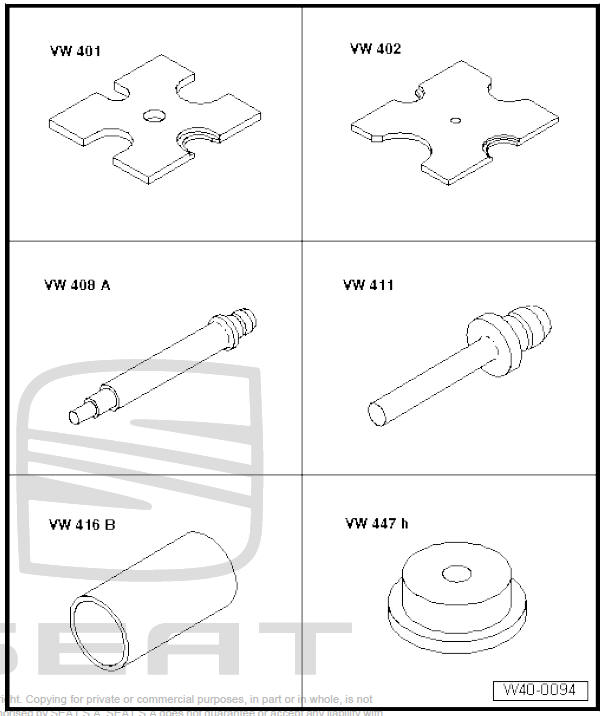 Circlip pliers - VW 161 A-
Torque wrenches - V.A.G 1331-
Torque wrenches - V.A.G 1332-
Pliers - V.A.G 1682-
attachment tool - T10065-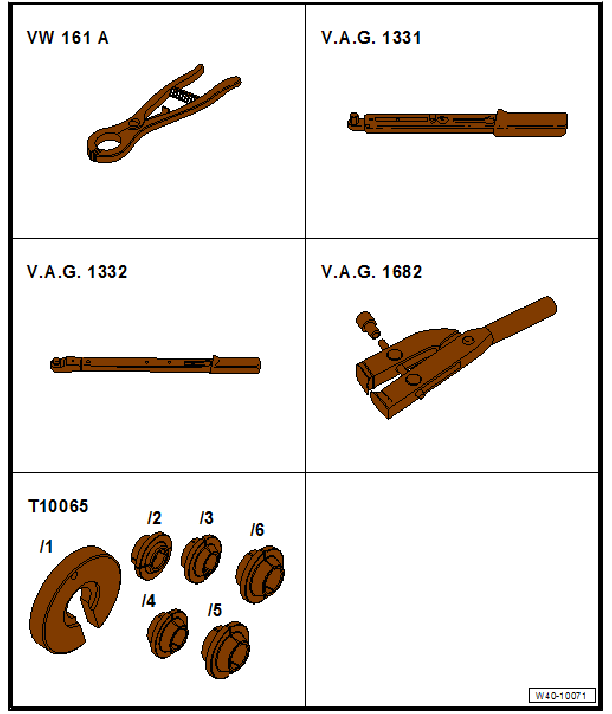 Dismantling
Driving out constant velocity joint
Clamp drive shaft in vice using protective jaw covers.
Remove clamps.
Push the dust guard backwards.
Remove the constant velocity joint from the drive shaft using an awl -A-.
Drift must be positioned exactly on ball hub of constant velocity joint.
Position the seal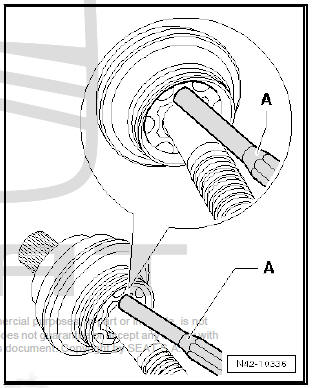 Installation position of dished spring at outer joint
- Dished spring
Fit new circlip.
Use plastic-headed hammer to drive joint onto shaft until circlip engages.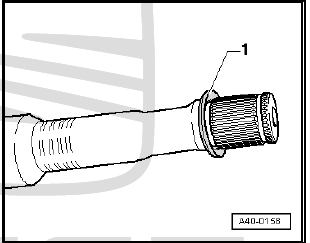 Separate cover for inner constant velocity joint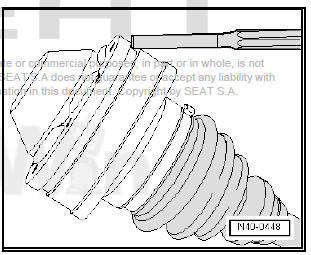 Pressing off inner constant velocity joint
Separate the dustguard of the constant velocity joint with a punch.
Remove circlip.
Remove both clamps and slide boot towards outer joint.
Assembling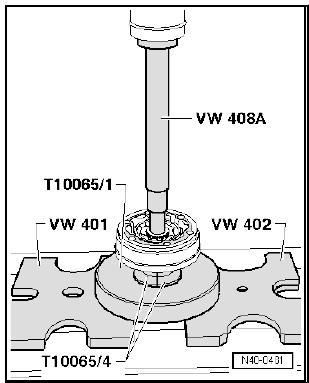 Installation position of the plate spring on the joint
- Dished spring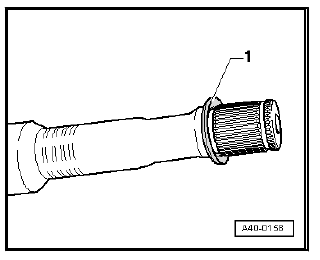 Pressing on inner constant velocity joint
Note Chamfer on internal circumference of ball hub (splines) must face contact shoulder on drive shaft.
Insert the constant velocity joint up to the limit.
Install retaining ring.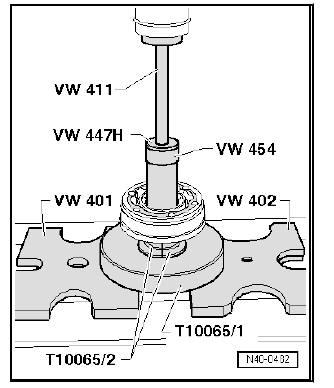 Using bolts -arrows-, align new cover in relation to bolt holes.
The alignment must be very accurate, because no further alignment is possible once the part has been hammered on.
Drive on cover using a plastic hammer.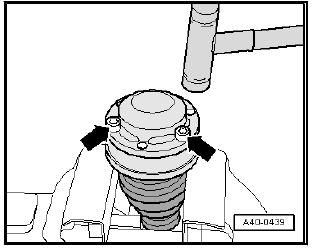 Tighten clamp on outer joint
Apply clamp tensioner - V.A.G 1682- as illustrated. Ensure jaws of tensioner lie in corners -arrows B- of clamp.
Tighten hose clip by turning spindle with torque wrench (take care to keep clamp tensioner straight).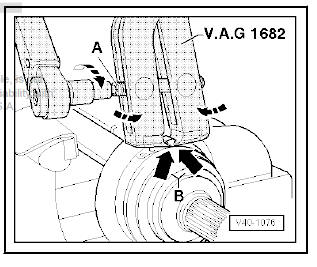 Note
Due to the hard material of the protective boot (compared to rubber) and the necessity of using a stainless steel clamp, it is only possible to tension the clamp with clamp tensioner - V.A.G 1682- .
Tightening torque: 25 Nm.
Use a torque wrench -C- with a range between 5 ... 50 Nm (e.g torque wrench - V.A.G 1331- ).
Check that the spindle thread -A- of the pliers is easily movable.

Apply MOS 2 grease if necessary.

If the thread is tight (e.g. due to dirt), the required clamping force for the clamp will not be attained although the specified tightening torque is applied.
Tightening clamp on small diameter