Seat Leon >> Removing and installing wheel bearing unit
Special tools and workshop equipment required
Torque wrenches - V.A.G 1332-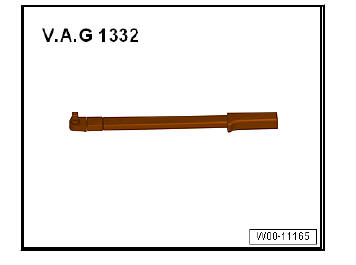 Removing
Remove bolt for drive shaft
Caution
Wheel bearings must not be subjected to load after loosening bolt securing drive shaft at wheel hub.
If they have to support the weight of the vehicle they will be damages and their service life will be reduced.
It is not permissible to turn drive shaft bolt more than 90º anticlockwise if vehicle is standing on its wheels.
Do not attempt to move the vehicle without the drive shafts fitted; this would result in wheel bearing damage. If it is necessary for a vehicle to be moved, please comply with the following instructions:
Install an outer joint instead of the drive shaft.
Tighten outer joint to 120 Nm.
Remove front wheel on affected side.
Remove brake disc.
Vehicles with vehicle level senders
Remove nut -1-.
Pull bracket -2- for front left vehicle level sender - G78- and/or for front right vehicle level sender - G289- out of suspension link -3-, as applicable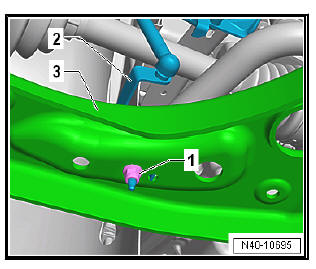 Continuation for all models:
Remove nut -1- from coupling rod -3-.
Pull coupling rod -3- out of anti-roll bar -2-.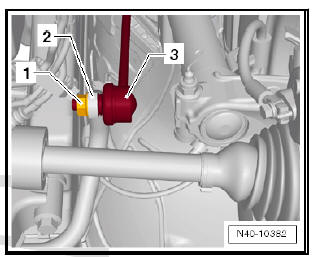 Unscrew nuts -arrows-.
Pull swivel joint out of suspension link.
Pull outer joint of drive shaft out of wheel hub.
Secure drive shaft to body with wire.
Bolt swivel joint to suspension link -arrows- again.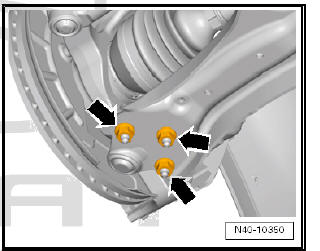 Remove bolts -arrows-.
Take wheel bearing unit out of wheel bearing housing.
Caution
Avoid dirtying or damaging the seal when picking up, laying down or storing the wheel bearing.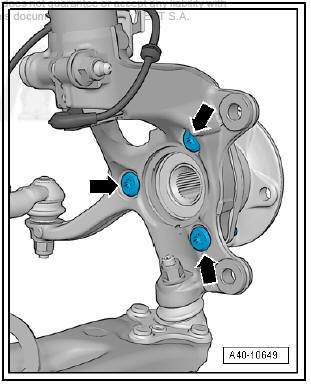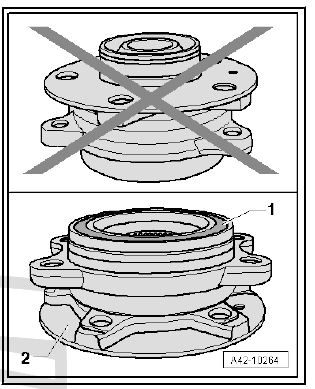 The wheel bearing -1- must always face upwards when laying down the wheel bearing unit.
Always place wheel bearing unit on wheel hub -2-.
Do not touch the inside of the wheel bearing when you pick it up.
Always take hold of the outside of the wheel bearing.
Installing
Carry out installation in the reverse sequence, noting the following: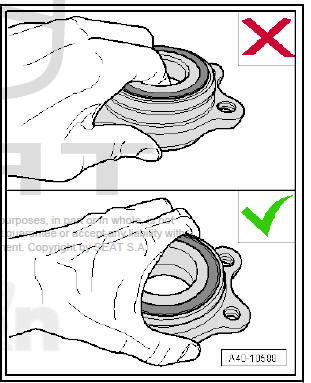 Note
Lever on vehicle level sender must face towards outside of vehicle.
Thread of vehicle level sender must be screwed into outer hole in suspension link. Retaining lug for vehicle level sender must engage in inner hole in order to guarantee correct installation position.
On vehicles with vehicle level sender, carry out basic settings for wheel damper electronics - Vehicle diagnostic tester.
Specified torques