Seat Leon >> Engine oil: checking levels
Preconditions:
Engine oil temperature min. 60 ºC
Vehicle standing on a flat surface
After shutting off engine, wait at least 3 minutes so that the oil can flow back into the sump.
Pull out the dipstick, wipe with a clean cloth and insert again as far as it will go.
Pull oil dipstick out again and read oil level.
NOTICE Observe environmental requirements for disposal.
Markings on oil dipstick:
- Oil must not be replenished.
- It is not necessary to top up the oil. However, the oil can be topped up, whereby it must be ensured that the oil level does not exceed area -A-.
- oil must be added. The oil level must then lie in the striped area -B-.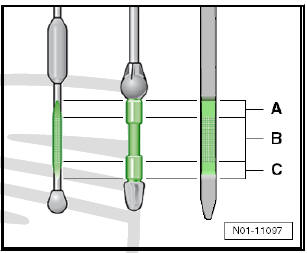 NOTICE A danger exists of damaging the catalytic converter when oil level is above area -A-.
If it is necessary to add engine oil, observe the specifications.