Seat Leon >> Removing and installing exhaust ventilation for passenger compartment
Removal:
Turn off the ignition and all electricity consumers.
Vehicles without access and start authorisation system
Remove ignition key, if fitted.
Vehicles with access and start authorisation system
Store ignition key outside the vehicle to prevent the ignition from being switched on unintentionally.
Continued for all vehicles
Left hand side: Remove the cover of luggage compartment side trim.
Right hand side: Remove the tools of the vehicle.
Release the retaining clips -arrows- and press the forced air extraction vent frame -1- outwards out of the body opening.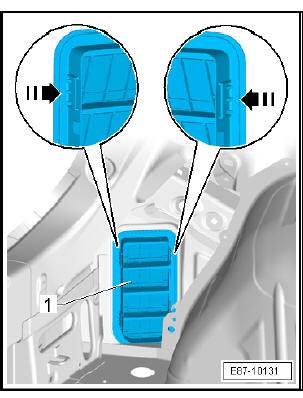 Take out the vent frame -3- downwards between the body -2- and the bumper cover -1-.
Note
This illustration shows the vent frame -3- for the right side. The same applies accordingly to the left side.
For greater clarity the rear bumper cover has been removed.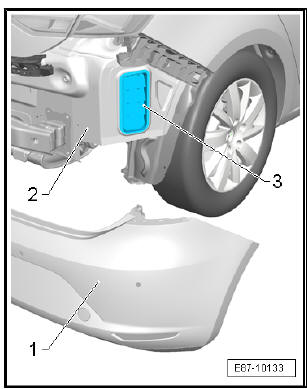 Installing
Install in reverse order of removal; note the following.
Check the seal -1- for damage.
The sealing lips -3- only close properly if the vent frame -2- has been installed in the correct position.
Press the forced air extractor into the body opening until it is heard to engage.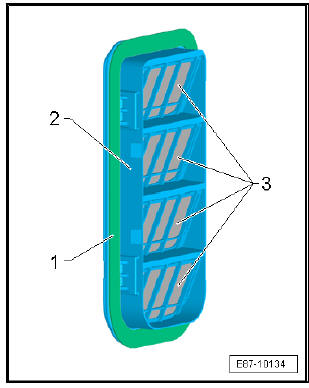 Checking plenum chamber water drain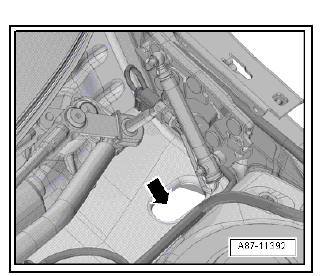 Note
Drainage of water out of the plenum chamber may be impaired by deposits such as leaves and pine needles accumulating in the water drain -arrow-. The water level in the plenum chamber then rises if the vehicle is taken to an automatic car wash or in the event of heavy rain, water ingresses by way of the fresh air intake into the heater and air conditioning unit and is blown by the fresh air blower onto the evaporator together with the air conveyed.
If the water drains on the left and right -arrow- are clogged with leaves and pine needles, the drains may freeze up in winter and prevent water drainage. After a short journey, the heat emitted by the engine and exhaust system melts the ice in the drains again. By the time the vehicle arrives at the workshop, the water may have already drained out of the plenum chamber.
Water may flow via the drip rail -1- into the fresh air intake if the plenum chamber cover -2- is damaged or not properly fitted.

This may result in complaints about odours from the heater/air conditioner and/or moisture in the passenger compartment.

♦ The plenum chamber cover must be fully engaged in the windscreen frame -3- .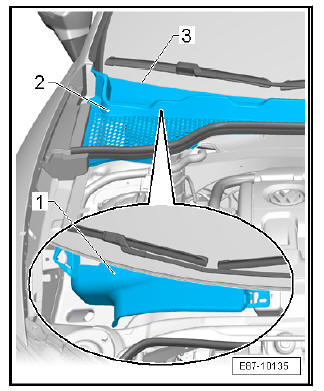 Operation process
Remove plenum chamber cover.
Check for contamination of the water drains -arrow-.

The water must be able to drain off.

Clean water drains if obstructed with dirt.