Seat Leon >> Removing and installing window guide
Caution
The following does not have to be removed to remove the window shaft seal of the front door:
Removing
Front door glass: removal .
Remove the interior window well seal.
Remove the front door A-pillar outer trim .
Remove the front door B-pillar outer trim .
Release from inside the lip -3- of the door flange -2-.
Unfasten it starting at the back area and uniformly pull away the entire perimeter -Arrows a- of window guide -1-.
Remove the window shaft seal from the mount -arrow B-.
fitting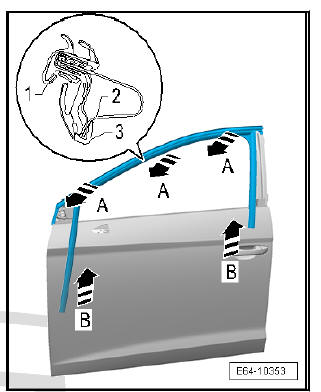 Note
The inner part of the window guide is metal. If it is bent or distorted, it cannot be straightened out any more and remains "wavy".
Therefore, the window guide must be inserted evenly without being bent.
Installing window guide in its supports -Arrows a-.
Clip the window guide -3- evenly on the entire frame in the door flange.
Insert the sealing lip -2- of the guide on the door flange -1- .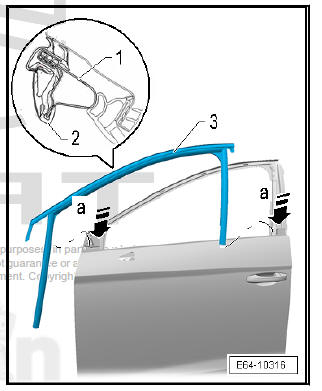 Caution
Before mounting the door trims, the function of the manipulated components must be checked.
Note Take care of a uniform seating all around the window guide to prevent wind noise.
CautionThe following does not have to be removed to remove the lock from the front door: Mount for the outside handle Door on the drivers side: Remove lock cylin ...
Special tools and workshop equipment required Torque wrench - V.A.G 1331- Wedge - T10039/1- Removing Installation Removing Note The sequences below describe the processes f ...
See also:
Wheel assignment
6 J x 15 Note Always observe the allocation of wheels and tyres to the respective engines, which are listed in the overview table. Bolt hole diameter: 112 mm Number of wheel bolt holes: 5 Steel ...