Seat Leon >> Type plate
The type plate is situated on the left side member inside the engine cavity.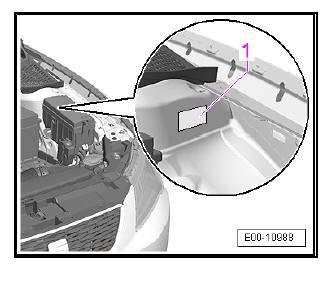 Meaning of sections on plate
- Authorization number signature
- Vehicle identification number
- Maximum permissible weight
- Maximum permissible weight of the unit
- Maximum authorised weight 1st axle
- Maximum permissible weight on the rear axle without trailer
- Maximum permissible weight on the rear axle with trailer
- Fume absorption coefficient
- Type
- Approval information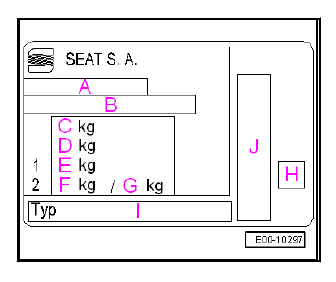 Front towing eye The cover of the bumper is raised by pressing slightly -arrow-. Carefully remove the cover in -direction of arrow-. Screw-in the towing eye all the way into the threaded hol ...
Engraved chassis number The chassis number is engraved in the engine compartment, in the upper region of the right-hand wheel housing. Chassis number card The chassis number plate -1-is ...
See also:
Selector lever positions
Fig. 118 Section of centre console: selector lever on cars with an automatic gearbox / direct shift gearbox Selector lever positions indicated on the cover P Parking position (lever locked). ...