Seat Leon >> Anti-theft wheel bolts
Anti-theft wheel bolts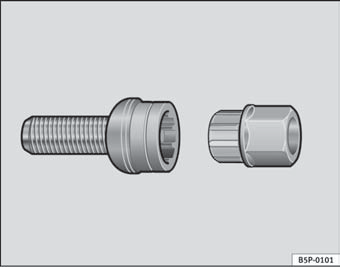 Fig. 159 Anti-theft wheel bolt
– Insert the adapter onto the wheel bolt and push it on as far as it will go fig. 159.
– Fit the box spanner as far as it will go over the adapter.
– Loosen or tighten the wheel bolt as appropriate.
Code number
The code number of the anti-theft wheel bolt is stamped on the front of the adapter.
The code number should be noted and kept in a safe place, as it is only by using the code number that a duplicate adapter can be obtained from an Authorised Service Centre.