Seat Leon >> Using the handbrake
The handbrake should be applied firmly to prevent the vehicle from accidentally rolling away.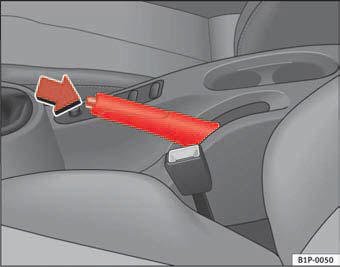 Fig. 124 Handbrake between the front seats
Always apply the handbrake when you leave your vehicle and when you park.
Applying the handbrake
– Pull the handbrake lever up firmly fig. 124.
Releasing the handbrake
– Pull the lever up slightly and press the locking knob in the direction of the arrow fig. 124 and guide the handbrake lever down fully

.
Always apply the handbrake firmly; this prevents you driving with the handbrake applied

.
The handbrake warning lamp

lights up when the handbrake is applied and the ignition switched on. The warning lamp goes out when the handbrake is released.
If you drive faster than 6 km/h with the handbrake on, the following message* will appear in the instrument display: HANDBRAKE ON. Also, an audible warning is given.
WARNING
• Never use the handbrake to slow down the vehicle when it is in motion.
The braking distance is considerably longer, as braking is only applied to the rear wheels. Risk of accident!
• If it is only partially released this will cause overheating of the rear brakes, which can impair the function of the brake system and could lead to an accident. This also causes premature wear on the rear brake pads/linings.
Caution
Always apply the handbrake before you leave the vehicle. The first gear should also be selected.