Seat Leon >> Removing and installing speed sensors on front axle -G45- / -G47-
Special tools and workshop equipment required
Torque wrenches - V.A.G 1410-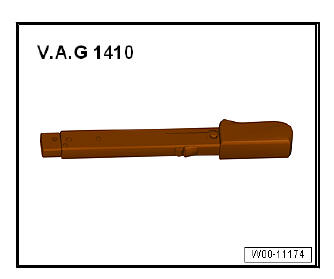 Lubricating paste - Electronic parts catalogue .
Removing
Remove appropriate front wheel.
Remove electrical connector -2- from the speed sensor.
Unscrew bolt -1- and pull speed sensor out of wheel bearing housing.
Installing
Carry out installation in the reverse sequence, noting the following:
Before fitting the speed sensor, the inner surface of the hole must be cleaned and lubricating paste must be applied all around it - Electronic parts catalogue .