Seat Leon >> Preparing for measuring
Test preparations, wheel alignment with no driver assist systems
Special tools and workshop equipment required
Wheel alignment computer - V.A.G 1813F- or VW/Audi- approved wheel alignment units
Brake pedal depressor - V.A.G 1869/2-
Insert tool, 18 mm - T10179-
Shock absorber set - T10001-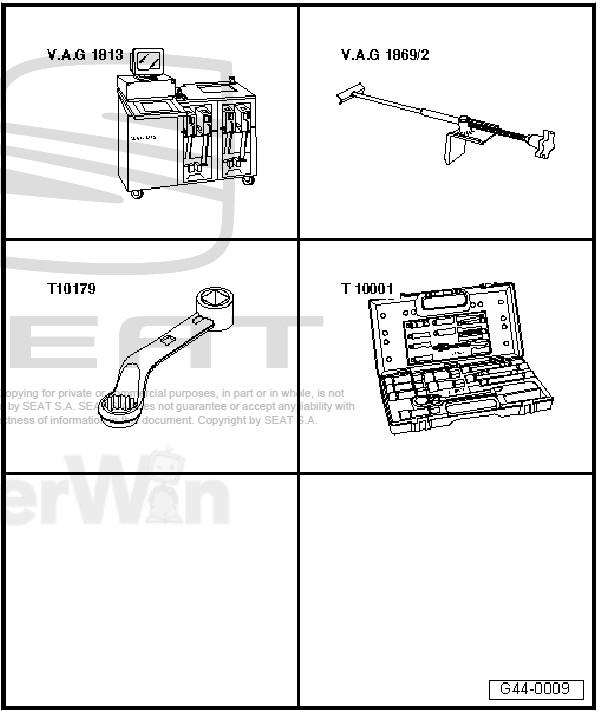 The existing lateral run-out of the wheel rims must be compensated accordingly. Otherwise false results will be obtained.
If runout compensation is not performed, it is not possible to adjust toe-in correctly! Please follow the instructions of the manufacturer of the wheel alignment equipment.
Compensate for the warp of the rims.
Apply brake pedal actuator - V.A.G 1869/2- .
Use brake pedal depressor to depress brake pedal.
Preparations required before calibration of driver assist systems
Test preparations, wheel alignment with driver assist systems
The following steps are required if one or more driver assist systems on the vehicle are to be calibrated via the "Quick-start" procedure (i.e. without first checking and adjusting the wheel alignment):
Before driving the vehicle onto the alignment platform, make sure there is sufficient space between the vehicle and the calibration unit. The distance between the calibration unit and the vehicle must be 120 cm +- 2.5 cm.
If the available space is not adequate, move the vehicle backwards on the alignment platform as required. This allows the use of the respective floor area.
Before calibrating, read out event memory and rectify faults as necessary.
Vehicle accurately aligned, suspension bounced and rocked several times
When checking wheel alignment, ensure that sliding plates and turn tables are not touching end stop.
Connect battery charger .
Bring wheels into straight-ahead position.
Connect up - Vehicle diagnostic tester to vehicle and run diagnostic cable out through open window.
Exterior lighting switched off.
All vehicle doors closed.
Press button to select required calibration on wheel alignment computer.