Seat Leon >> Brake fluid level according to wear of pads: check
Only use new genuine brake fluid in accordance with standard US FMVSS 116 DOT 4.
CAUTION
Do not under any circumstances allow brake fluid to come into contact with fluids that contain mineral oils (e.g. oil, petrol, cleaning agents). Mineral oils will damage seals and sleeves of brake system.
Brake fluid is poisonous. In addition, due to its corrosive nature, it must not come into contact with paint.
Brake fluid is hygroscopic, i.e. it attracts moisture from the surrounding air and therefore must always be stored in airtight containers.
Rinse off brake fluid spillages using plenty of water.
Observe environmental requirements for disposal.
Observe the differences for:

Delivery Inspection
Inspection Service
Delivery Inspection
When performing the Delivery Inspection, ensure that the fluid level is at the MAX -1- mark.
NOTICE The fluid level must not exceed the MAX -1- mark, otherwise the fluid will overflow.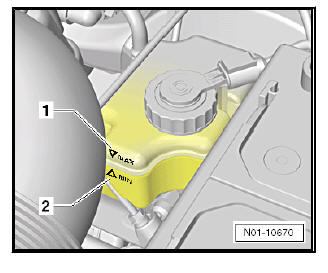 Inspection Service
When the vehicle is driven, the brake fluid level will drop slightly with use and as a result of the automatic adjustment of the brake pads.
The fluid level must always be judged in conjunction with lining/ pad wear.
If the fluid level is at or slightly above the MIN -2- marking, topping up is not necessary if the pads are close to their wear limit.
If the pads are new, or quite far from reaching their wear limit, the fluid level must be between the MIN and MAX markings.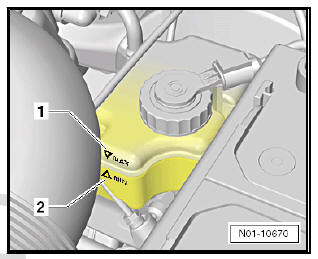 CAUTION
If the fluid level has fallen below the MIN mark, check the brake system (repair measure) before adding brake fluid.