Seat Leon >> Wheel securing bolts: Tighten to specified torque
At the delivery inspection
Loosen / tighten the anti-theft wheel bolts
Tightening wheel bolts
Install wheel centre trim, wheel bolt cover caps and wheel cover
Loosen / tighten the anti-theft wheel bolts.
NOTICE To loosen or tighten the anti-theft wheel bolts, you need a special adapter that is part of the on-board tools.
You are not allowed to not use an impact screwdriver to loosen the anti-theft wheel bolts (bolts with lock).
If there is no adapter in the vehicle for tightening / loosening the anti-theft wheel bolts, use the respective main kit for the wheel bolts.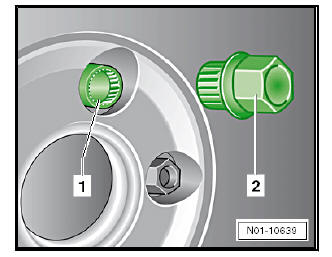 Special tools and workshop equipment required
Torque wrench - VAG 1332-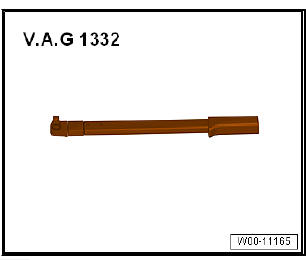 Adapter set for tamper-proof wheel bolts - T20213-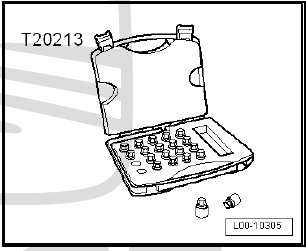 Push adapter -2- into anti-theft wheel bolt -1- onto stop.
Push wheel brace onto adapter -2- onto stop.
Tightening wheel bolts:
Tighten the wheel bolts diagonally and alternately to the following torque setting: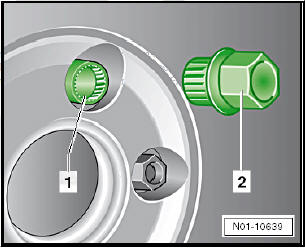 CAUTION
Never use an impact screwdriver for tightening the wheel bolts.
Install wheel centre trim, wheel bolt cover caps and wheel cover:
Press the wheel hub cover in the intended opening of the wheel hub. Ensure that -A and B- are accurately fitted on rim.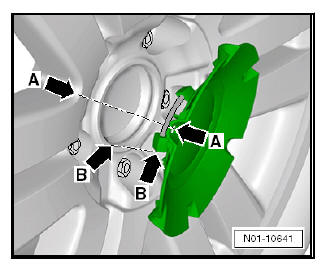 Install the wheel bolt caps.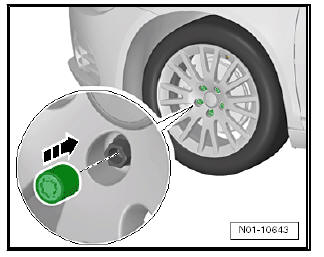 Press the wheel trim equally onto the steel rim. Make sure that valve -B- seats in cut-out -A- of wheel trim.
NOTICE After finishing the work, duly deposit the anti-theft bolt with the vehicle tool kit.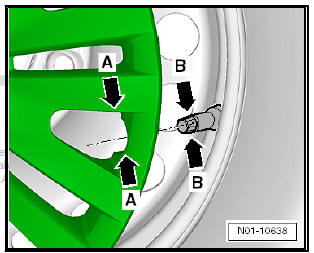 Anti-puncture kit: check expiry date on sealed bottle, and replace if necessary
NOTICE The breakdown set is located in the cavity of the spare tyre.
The breakdown set includes a tyre sealant bottle, among other things.
Expiration date
Check the expiration date.
The use-by date is on a sticker on the bottle of tyre sealant -arrow-
If the expiration date has been exceeded, replace the tyre sealant (the tyre sealant expires after 4 years).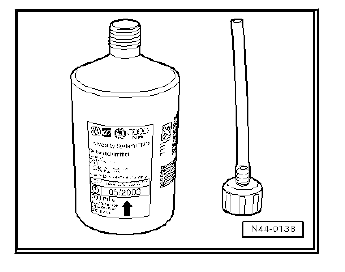 NOTICE The bottle must be replaced after use.
Observe environmental requirements for disposal.