Seat Leon >> Replenishing engine oil
Special tools and workshop equipment required
Oil filler funnel - VAS 6842-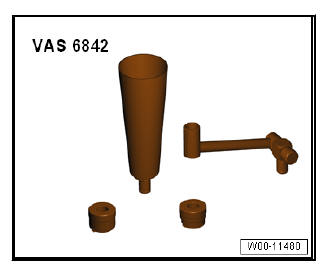 The engine is filled ex factory with a high-quality multi-grade oil, which with the exception of extremely cold climates, can be used all the year round.
CAUTION
For the Russian market only.
Due to climate conditions and fuel quality, the following engine oil must always be used in the Russian market for the 1.8l TSI and 2.0l TSI petrol engines:
Castrol EDGE A3/B4 SAE 0W-30
Norm VW 502 00 / 505 00
Failure to use this engine oil may result in oil pressure faults (the warning light on the dash panel insert will illuminate) with a resulting risk of engine damage!
NOTICE When topping up it is permissible to mix different types of oil.
Observe the engine oil filling level.
Observe the engine oil specifications.
If necessary use the oil filler funnel - VAS 6842- for topping up the oil.
Following an oil change and an oil filter change note the following:
Following the first engine start:
As long as the oil pressure warning is lit in the instrument cluster, the engine must only run in neutral. Do not accelerate! If acceleration is applied in this moment, the turbocharger may be damaged or destroyed.
Oil pressure has been reached and the acceleration may be used only after the indicator light is turned off.