Seat Leon >> Poly-V belt: check condition
Carry out the following work:
Crank engine using vibration damper, using a socket spanner.
Check the Poly-V belt -1- with respect to:

Substructure cracks (cracks, core ruptures, cross sectional breaks)
Layer separation (top layer, cord strands)
Base break-up
Fraying of cord strands
Wear on edges of belt (wear of material, frayed edges, hardened edges -brittle edges-, surface cracks)
Traces of oil and grease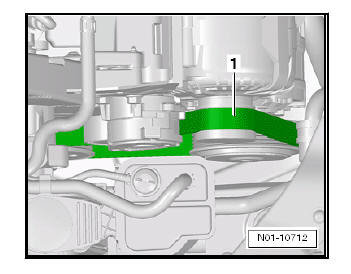 NOTICE If faults are detected, the Poly-V belt must be replaced. This will avoid possible breakdowns or operating problems. Renewing the poly V-belt is a repair measure.
Notched timing distribution belt: replace
TDI common rail engine
Removing and fitting the notched belt.
Tensioning roller
Remove the notched belt tension roller.
Renewing poly V-belt
Removing and fitting the ribbed belt.