Seat Leon >> Transportation devices: remove blocking pieces from front axle springs
NOTICE On some vehicle models locking element are installed in the front suspension struts. You can recognise these vehicles by the label that is hanging on the handle (passenger side).
There may also be locking blocks attached to both sides of the rear axle. Please check and remove if necessary.
It is not necessary to remove wheels.
Relieve weight on springs by raising vehicle with a hoist.
Slide dust protection on suspension strut -arrow- upward.
CAUTION
It is to be ensured that no locking elements are wedged in the upper part of the dust seal.
This model can have up to three locking blocks attached to each front suspension strut.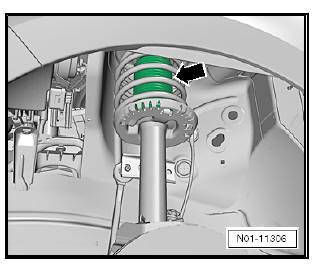 Remove the locks -1, 2 and 3- from the piston rod.
Slide dust protection downward over suspension strut.