Seat Leon >> Coolant pump toothed belt: Check
Remove the guard and check the toothed belt.
Install toothed belt guard.
WARNING
Applies only for petrol engines as they do not have a specified timing belt change interval.
Remove the guard and check the toothed belt:
Expose the air hoses on air pipe clear.
Detach the connector -1-.
Release connectors -arrows- and pull off the air pipe.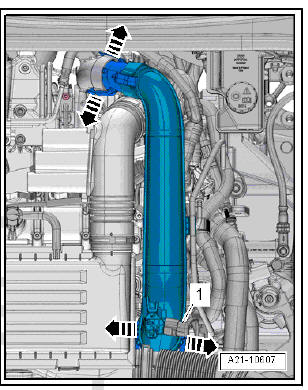 Press release tabs and disconnect hose -1- for activated charcoal filter.
Unscrew the bolts -arrows- and detach the hose for the crankcase breather hose.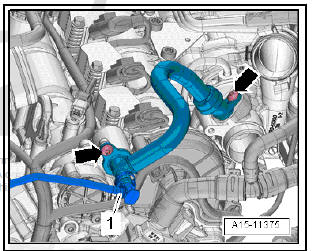 Expose the wiring harness -arrows-.
Loosen the bolts -1 and 3- and remove the protective cover -2- of the coolant pump belt.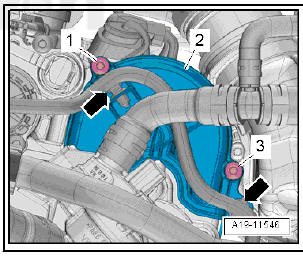 Turn crankshaft by the bolt of the crankshaft toothed belt in the direction of the engine and check the entire toothed belt for the following:

Cracks, cross-sectional breaks, cracks (coating) -arrow-
Side contact
Fraying of cord strands
Cracks (in teeth base) -arrow-
Layer separation (toothed belt body, draw strands)
Surface cracks (synthetic coating)
Traces of oil and grease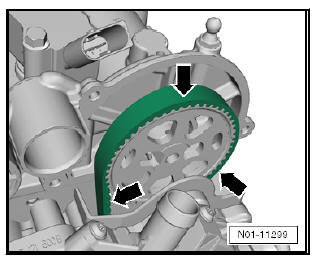 NOTICE If faults are found always renew toothed belt. This will avoid possible breakdowns or operating problems. The replacement of a toothed belt is a repair measure.
Install notched belt guard:
Installation is carried out in reverse order. When installing, note the following:
Tighten the bolts -1 and 3- to 8 Nm.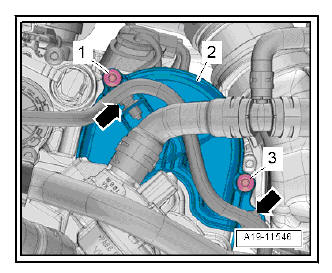 Tighten the bolts -arrows- at 9 Nm.