Seat Leon >> 1.8 l and 2.0 I TSI engines
Removing
Pull vacuum hose -1- off air filter upper part.
Unscrew the fixing screws -arrows- and lift the upper section of the air filter in the direction of the side with the complete air ducts.
Remove the air filter cartridge -2- and the snow screen -3-.
NOTICE The snow grate is not mounted in all the vehicles.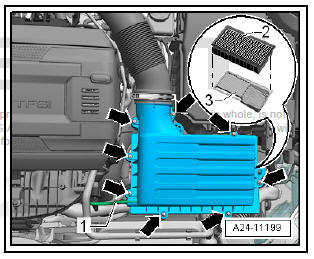 Installation
Check the housing, air mass meter and the drains for soiling and clean if required.
NOTICE When cleaning the housing with compressed air, the following must be noted: in order to avoid running faults, cover the delicate components of the engine which participate in the air flow system, like for example the air volume gauge, the air intake hoses etc., with a clean cloth.
Observe environmental requirements for disposal.
Install the snow screen -3- in the lower element of the air filter.
Insert the air filter insert -2- into the centre of the mount in the lower section of the air filter.
Carefully and without using excess force, attach the top section of the air filter to the bottom section and secure with the tightening torque.
Attach the vacuum pressure hose -1- to the top of the filter.