Seat Leon >> Check liquid level and top up if necessary
DANGER
The coolant tank is under pressure. Open only when the engine is cold!
NOTICE Permitted coolant additive.
The vehicle must be parked horizontally.
Check coolant level on expansion tank while the engine is cold.

Delivery inspection: the coolant level must at least reach the "MAX"-mark.
Delivery Inspection: the coolant level must be above the "MIN" mark.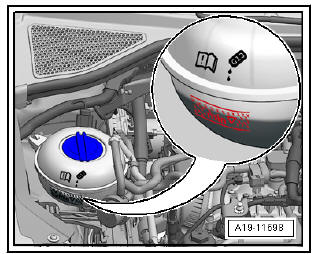 CAUTION
The coolant additive G13 must not be mixed with any other additive.
If the coolant level is insufficient, add the necessary quantity, observing the mixture ratio.
NOTICE If fluid loss is greater than can be expected through normal use, determine source and rectify (repair measure).
Mixture ratio
WARNING
Only distilled water may be used for mixing coolant additives.
The use of distilled water ensures optimum protection against corrosion.