Seat Leon >> Checking frost protection, replenishing coolant additive if necessary
Special tools and workshop equipment required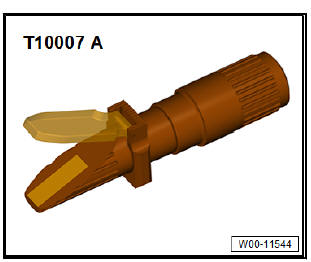 NOTICE
The water used for the mixtures heavily influences the effectiveness of the coolant. Because the water quality differs from country to country and even region to region, the quality of the water to be used has been defined. Distilled water fulfils all requirements.
Therefore, the coolant must be mixed with distilled water when filling and refilling.
Use only coolant additives in accordance with the - Electronic parts catalogue . Other coolant additives may reduce corrosion protection substantially. Resulting damages may cause coolant loss and may lead to heavy engine damages.
Mixed in the proper proportions, coolant inhibits frost and corrosion damage as well as calcium deposits. Such additives also raise the boiling point of the coolant. For this reason the cooling system must be filled all year round with the correct coolant additive.
Because of its high boiling point, the coolant improves engine reliability under heavy loads, particularly in countries with tropical climates.
ONLY refractometer - T10007A- may be used for determining current anti-freeze value.
NOTICE
The anti-freeze is to be set to -25 ºC; in countries with arctic climate to -36 ºC. The anti-freeze may only be increased if the climatic conditions make a higher degree of protection necessary.
But only down to -48 ºC, otherwise the cooling effect of the coolant gets worse.
The coolant concentration must not be reduced by adding water even in warmer seasons and in warmer countries. The frost protection must be at least -25 ºC.
Read the frost protection value on the scale of the respective refilled coolant additive The temperature read off the refractometer - T10007A- equates to the "ice flocculation point". Ice flocculation can start forming in the coolant below this temperature.
Do not re-use used coolant.
Use only a water/anti-freeze mixture as a slip agent for coolant hoses.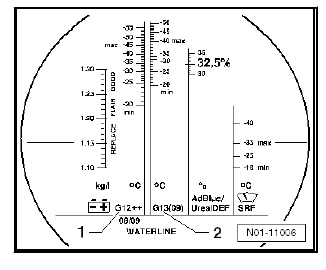 NOTICE
Read precise value for the following tests at light/dark boundary.
Using a pipette, place a drop of water on the glass to improve the readability of the light/dark boundary. The bright/dark boundary can be clearly recognised on the "WATERLINE".
CAUTION
The coolant additive G13 must not be mixed with any other additive.
If frost protection is too low, drain coolant and add coolant additive.
NOTICE Please observe requirements for disposal.
Check coolant additive concentration after road test again.