Seat Leon >> Removing and fitting the evaporator
WARNING
Danger from refrigerant escaping under pressure! Freezing of skin and other body parts.
Evacuate the refrigerant and then open the refrigerant circuit immediately.
If more than 10 minutes have elapsed since evacuation and the coolant circuit has not been opened, evacuate the refrigerant again. Pressure builds up in the coolant circuit as a result of secondary evaporation.
Note
Removal:
Remove heater and air conditioner unit.
Remove fresh air blower - V2-.
Remove the air intake housing.
Remove the hollow bolts -1-.
Release retaining clips -4- and -5- -arrows-.
Detach the top part of the evaporator housing -3- from the bottom part -2-.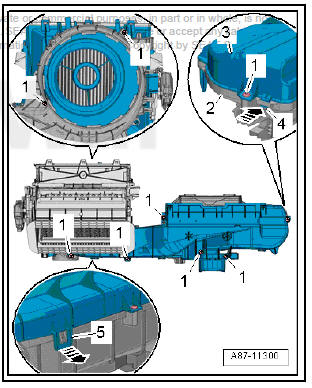 Pull the evaporator -2- out of the bottom part of the evaporator housing -1-.
Unscrew the expansion valve.
Detach the seal/insulation -3-. To do so, pull aside the movable part -5- -arrow-.
Detach the locking element -4- for the refrigerant lines.
Installing
Install in reverse order of removal; note the following.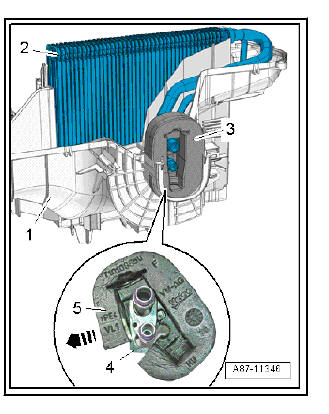 Note Even minute leakage at the tongue-and-groove joint between the top and bottom part of the evaporator housing can lead to whistling noise as a result of escaping air. For this reason, lubricate the connection points lightly with silicone grease or similar to completely seal the connection points. For silicone grease.
Refill with refrigerant and refrigerant oil.