Seat Leon >> Fresh air / air recirculation, air flow flap actuation unit: Removing and installing
Removal:
Remove the fresh air/air recirculation, air flow flap control motor.
Carefully press the actuating lever -1- off the fresh air/air recirculation flap lever -8- -arrow-.
Unscrew bolts -4- and -7-.
Detach the actuation unit -6-.
Installing
Install in reverse order of removal; note the following.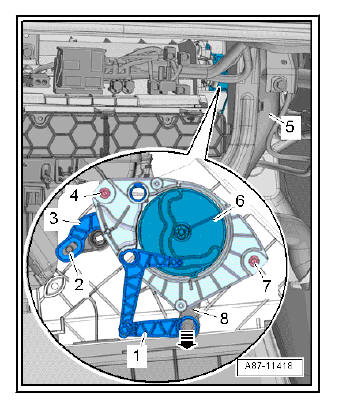 Note
Check operation of flaps and hinge mechanism before fitting.
Make sure levers and shafts are properly fitted in the mounts.
The mount of the control motor can only be attached to the actuating arm -2- in one position.
The actuator socket in the control motor must be opposite the actuating arm as shown.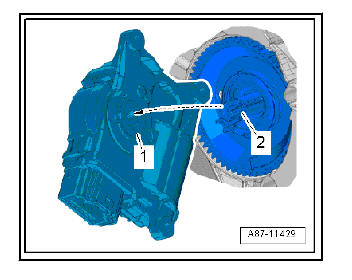 Note Turn the mount in the control motor if the mount and actuating arm are not opposite one another.
Position control motor on air distribution housing. The actuating arm must engage -arrow- in actuator socket -1-.
There must not be any play in the connection between the control motor and actuating arm.
Note The control motor is not properly positioned on the housing if the bolts cannot be fitted.
Route wiring harness so that it cannot come into contact with any moving parts (e.g. actuating arm on servomotor).
When fitting the actuation unit, the actuating lever -3- must engage in the lever -2- of the air flow flap.