Seat Leon >> Removing and installing windscreen wiper motor V
Removing
Remove wiper arms.
Remove bolts -1, 3, 5-.
Take wiper frame -2- with linkage and wiper motor out of plenum chamber.
Unplug the electrical connector -4-.
Installing
Installation is carried out in the reverse sequence; note the following:
Fit wiper motor with wiper frame in vehicle.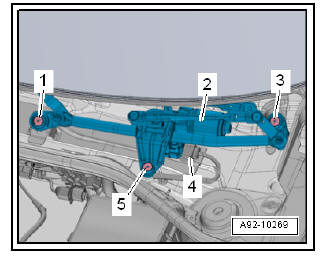 Deactivating APP function of wiper motor
The windscreens wiper system is equipped with APP function (alternating park position).
With the APP function, the wiper is moved up slightly once it has reached the lowest position. This occurs every second time the wiper system is switched off.
To fit the motor crank on the wiper motor, it is necessary for the motor to be in the lowest park position. To ensure this position is reached, the APP function must be deactivated.
Note
The APP function cannot be activated.
After 100 cycles of wiper movement, the APP function is activated automatically. This applies to wiper motors on which the APP function has been deactivated and also to new wiper motors.
Connecting diagnosis tester.
Deactivate APP function of wiper motor .
Note Following successful completion of APP function coding / deactivation, the wiper motor is located in the lower park position after the next wipe cycle.