Seat Leon >> Removing and installing expansion valve
Special tools and workshop equipment required
Air conditioner service station
Engine bung set - VAS 6122-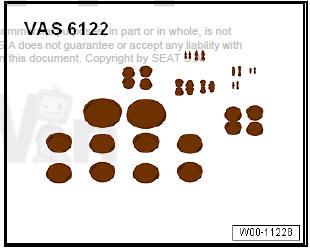 Removal:
Turn off the ignition and all electricity consumers.
Vehicles without access and start authorisation system
Remove ignition key, if fitted.
Vehicles with access and start authorisation system
Store ignition key outside the vehicle to prevent the ignition from being switched on unintentionally.
Continued for all vehicles
Extract refrigerant.
Observe instructions when working on refrigerant circuit.
Vehicles with petrol engine:
Release hose clips -1- and -2- and remove air intake pipe.
Diesel engine vehicles: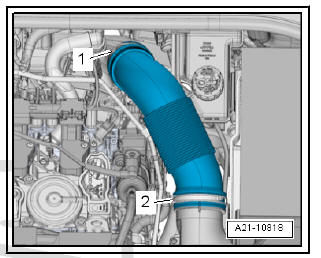 Press the release buttons at the crankcase breather hose -1- and detach the hose from the cylinder head cover.
Lay bare the vacuum hoses at the air pipe -arrows-.
Release hose clip -3-.
Screw out the bolt -2-, swivel the air pipe with connection to the rear and detach from the turbocharger.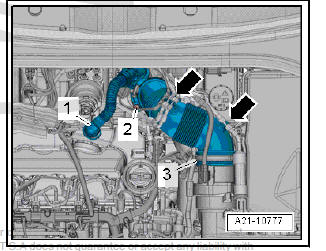 All vehicles (continued):
Unscrew the speed nuts -1, 3-.
Fold the heat shield -2- as far forwards as possible -arrow-.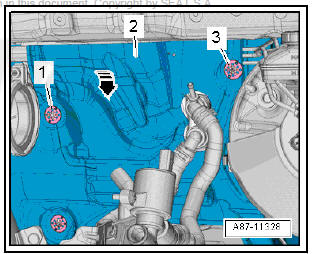 Screw out bolt -1-.
Detach refrigerant line -2- with internal heat exchanger from expansion valve.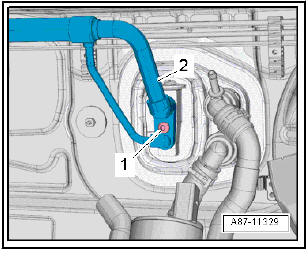 Unscrew bolts -1- and -3-.
Pull the expansion valve -4- out of the heat insulation -2-.
Seal open lines and connections with clean plugs from the Engine sealing plug set - VAS 6122- .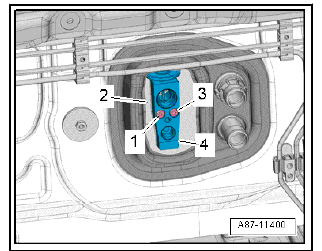 Installing
Install in reverse order of removal; note the following.
Replace the O-rings.
Insert the O-rings -1, 4- at the connecting pipes -2, 3- to the evaporator.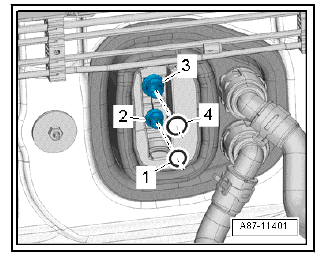 Note
There are different versions of the expansion valve (identical housing, but different control characteristic).
Check the refrigerant pipes to the evaporator for contamination and damage.
Moisten O-rings with refrigerant oil before installing.
Pay attention to correct positioning of the O-rings at the evaporator connecting pipes.
The absence of or incorrect installation of the heat insulation -2- may lead to reduced air conditioner output (heat-induced change in set characteristic control curve).
Refill with refrigerant and refrigerant oil.