Seat Leon >> Removing and installing wiper arms
Special tools and workshop equipment required
Tool kit for wiper arms - T10369-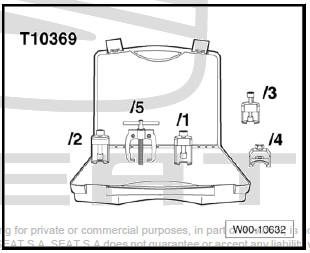 Removing
Caution
Risk of damage to wiper shafts
The wiper shafts can be damaged if you attempt to detach the wiper arms without using the puller - T10369/1- .
Note If the wiper motor needs to be run during repair work, the bonnet must be closed (voltage supply to wiper motor is cut off when bonnet is open).
Move windscreen wipers to service position.
Pry cover caps -arrows- off wiper arms -1- with a screwdriver.
Slacken nuts -2- a few turns.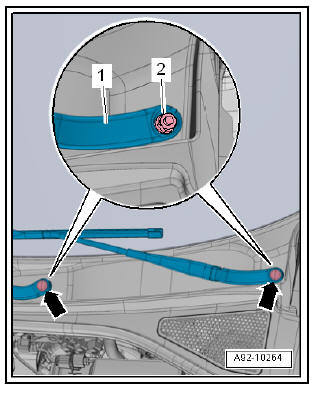 Apply puller - T10369/1- at wiper arm -1- as shown in illustration.
Apply thrust piece -2- at wiper shaft.
Turn bolt -3- clockwise until wiper arm is clear of wiper shaft.
Remove nuts and detach wiper arms.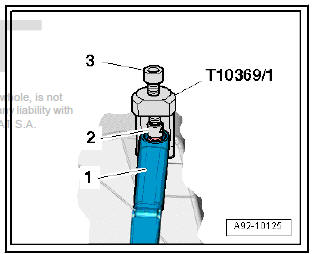 Installing
Caution
Risk of damage to body.
The wiper arms for driver's and front passenger's side have different lengths.
Installation is carried out in the reverse sequence; note the following:
Adjust windscreen wiper arms