Seat Leon >> Assembly overview - windscreen wiper system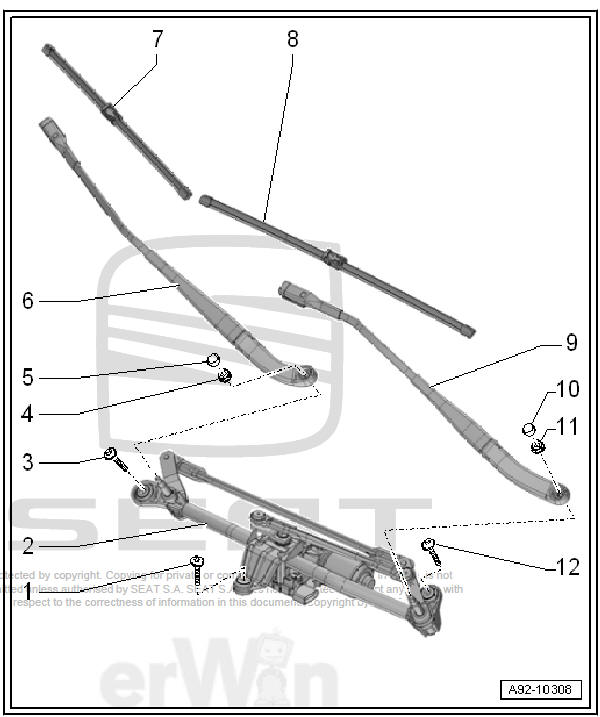 - Screw
- Wiper motor - V-

With wiper motor control unit - J400-
Switch-off the APS
Removal and installation

- Screw
- Nut
- Cap
- Wiper arm, passenger's side (LHD)

Different length
Removal and installation
Adjusting

- Wiper blade, passenger's side (LHD)
- Wiper blade, driver's side (LHD)
- Wiper arm, driver's side (LHD)

Different length
Removal and installation
Adjusting

- Cap
- Nut
- Screw
Wiper motor - tightening torque and tightening sequence
Tighten bolts in stages in sequence shown:
| | | |
| --- | --- | --- |
| phase | Bolts | Tightening torque |
| 1 | -2,3 and 1- | Screw in bolts by hand until they make contact |
| 2 | -2, 3 and 1- | 10 Nm + - 1 |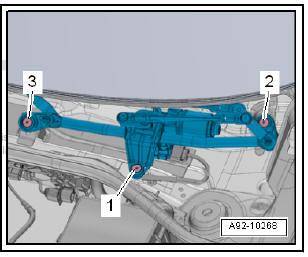 Moving windscreen wipers to service position
Note The front lid must be completely closed if the wiper motor needs to be run during repair work (the voltage supply to the wiper motor is cut off when the front lid is open).
At sub-zero temperatures, first check that the wiper blades are not frozen onto the glass.
Switch on ignition briefly and then switch off.
Operate "touch wipe" function within 10 seconds.

The wipers will run to the "service position".
Caution
The bonnet can be damaged if the wipers are allowed to run back to the park position.
Do not move the vehicle when the wiper arms are lifted up off the windscreen.
The windscreen wipers automatically run back to the park position when the wiper switch is operated or when road speed exceeds 6 km/h.