Seat Leon >> Removing and installing sliding sunroof adjustment control unit - J245-
Removing
Note If you must remove a defective engine while the panoramic window is closed, please proceed as described.
Remove the cover of the roller blind.
Disconnect the electrical plug connector from the engine.
Remove the screws -arrows- and the engine from its seat by lifting it up.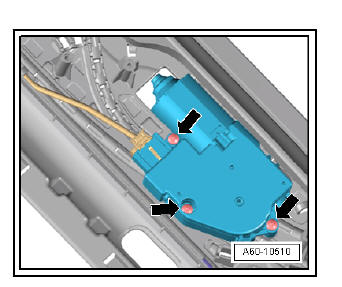 fitting
Fit in reverse order from removal, remembering the following:
Note When removing the engine, the retaining tabs -1- may loosen.
Before mounting the engine, install the retaining tab correctly to the frame of the actuating mechanism.
Use the tightening torque of the screws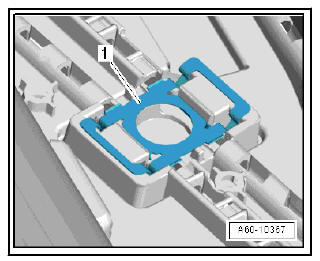 WARNING
If removing and reinstalling the same operating engine with control unit, some basic adjustments need to be made.
If replacing the engine, the new engine must also be coded in addition to making basic adjustments. For this purpose use the vehicle diagnosis tester.
Check that the slide/tilting sunroof is functioning properly.
Special tools and workshop equipment required Electric cutter - SAT 1561A- Knife 207 - SAT 1561/12- Cartridge heater - VAG 1939A- Pull handle - VAG 1351/1- (x2) Window sealant pisto ...
Seal of the sliding/tilting sunroof frame: removing and installing CautionTo remove the seal of the sliding/tilting sunroof frame, the following part does not have to be removed: ...
See also:
Removing and installing heat exchanger
Heat exchanger: removing and installing; manufacturer, Valeo Note There are different designs and makes of heater and air conditioning unit. The individual components of the various heaters and a ...