Seat Leon >> Exploded view - door handle and door lock
Exploded view - door handle and door lock (part I)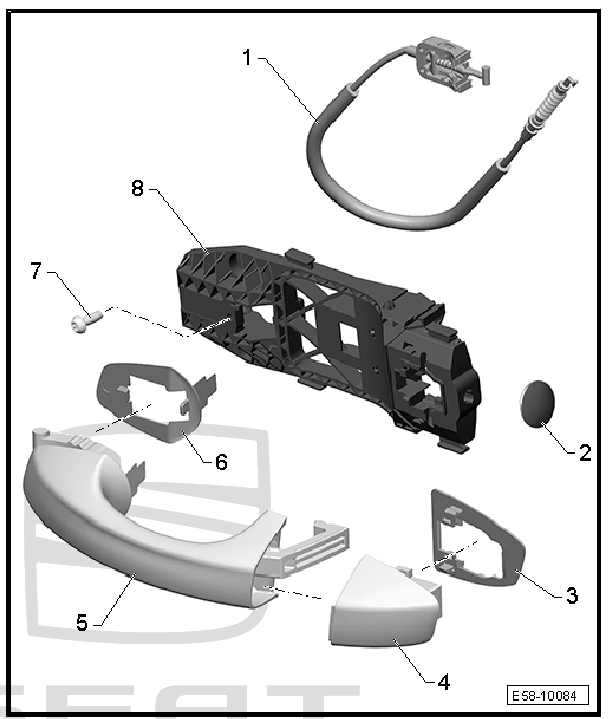 - Cable for the outside handle (back door)
- Anti-jam protection
- Backing plate (rear)

For the seat of the outside handle lock cover

- Cover for the lock of the outside handle (back door)

Fixed via the locking bar on the mount of the outside handle

- Outside handle (back door)
- Backing plate (front)

For the seat of the outside handle

- Bolt.
- Mount for the outside handle (back door)
Exploded view - door handle and door lock (part II)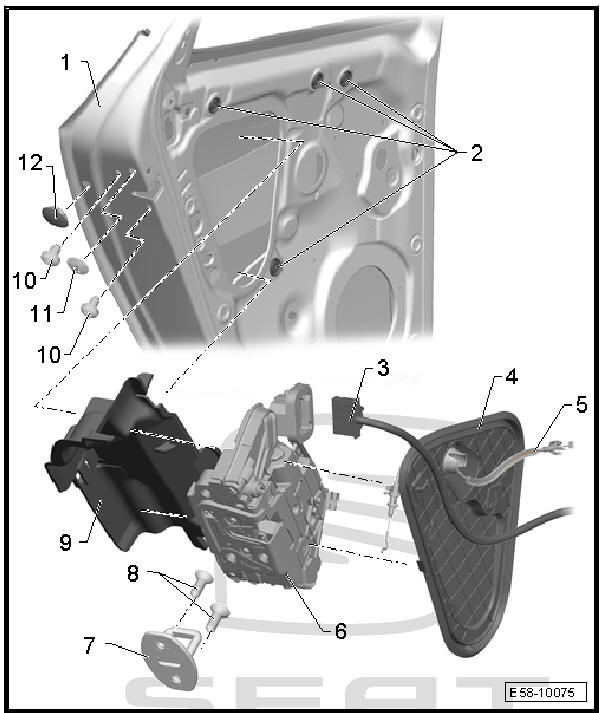 - Rear door
- Sealing plug
- Door lock connector
- Inside protective cover
- Cable for the inside handle (back door)
- Lock (back door)
- Striker plate
- Bolt.
- Cover
- Bolt.
- Sealing plug
- Sealing plug
- Rear door B-pillar outer trim - Spreader block 3 off - Bolt. 3 off - Interior window well joint Removing and fitting - Rear door C-pillar inner trim Fixed ...
Special tools and workshop equipment required Torque wrench - V.A.G 1331- Removing Installation Removing Remove interior trim of back door: Front door trim: removing and instal ...
See also:
Removing and installing air distribution housing
Removal: Turn off the ignition and all electricity consumers. Vehicles without access and start authorisation system Remove ignition key, if fitted. Vehicles with access and start author ...