Seat Leon >> Exploded view - door handle and door lock
Exploded view - door handle and door lock (part I)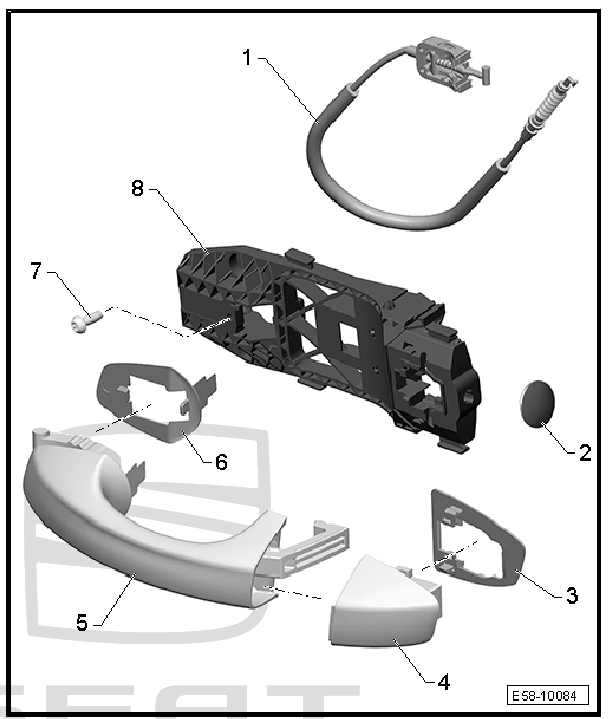 - Cable for the outside handle (back door)
- Anti-jam protection
- Backing plate (rear)

For the seat of the outside handle lock cover

- Cover for the lock of the outside handle (back door)

Fixed via the locking bar on the mount of the outside handle

- Outside handle (back door)
- Backing plate (front)

For the seat of the outside handle

- Bolt.
- Mount for the outside handle (back door)
Exploded view - door handle and door lock (part II)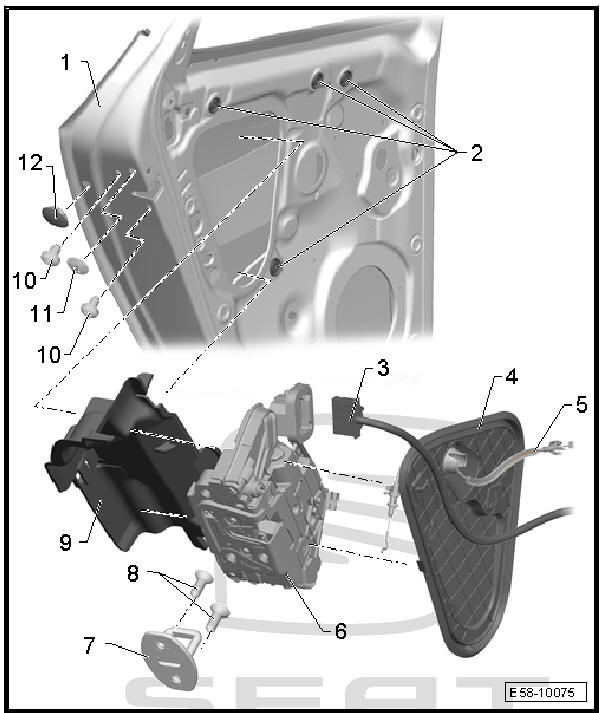 - Rear door
- Sealing plug
- Door lock connector
- Inside protective cover
- Cable for the inside handle (back door)
- Lock (back door)
- Striker plate
- Bolt.
- Cover
- Bolt.
- Sealing plug
- Sealing plug
- Rear door B-pillar outer trim - Spreader block 3 off - Bolt. 3 off - Interior window well joint Removing and fitting - Rear door C-pillar inner trim Fixed ...
Special tools and workshop equipment required Torque wrench - V.A.G 1331- Removing Installation Removing Remove interior trim of back door: Front door trim: removing and instal ...
See also:
Adjusting windscreen wiper arms
Operation process Note If the wiper motor needs to be run during repair work, the bonnet must be closed (voltage supply to wiper motor is cut off when bonnet is open). Remove wiper arms. Swi ...