Seat Leon >> Assembly overview - front brakes
Exploded view - front brake caliper FS III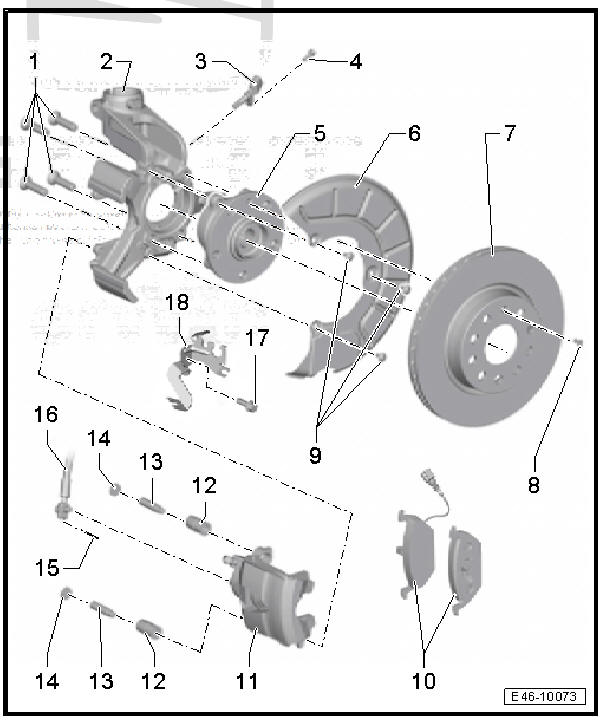 - Bolt
- Wheel bearing housing

With integrated brake carrier.

- Front speed sensor to part

Before inserting sensor, clean inner surface of hole and coat with hightemperature paste - G 052 112 A3- .

- Bolt
- Wheel bearing/wheel bearing unit

The ABS sensor ring is fitted in the wheel bearing

- Splash plate for brakes
- Brake disc

Interior lighting
Wear limit
Always replace by axles

- Bolt

4 Nm

- Bolt
- Brake pads

With brake pad wear indicator
Wear limit
Check thickness
Always replace by axles

- Brake calliper

Do not disconnect brake hose when changing pads.

- Mounting bush
- Guide pin
- Cover
- Thrust sleeve
- Brake hose with banjo union with banjo bolt

Ensure correct installation position
35 Nm

- Bolt
- Support
Exploded view - front brake caliper FN III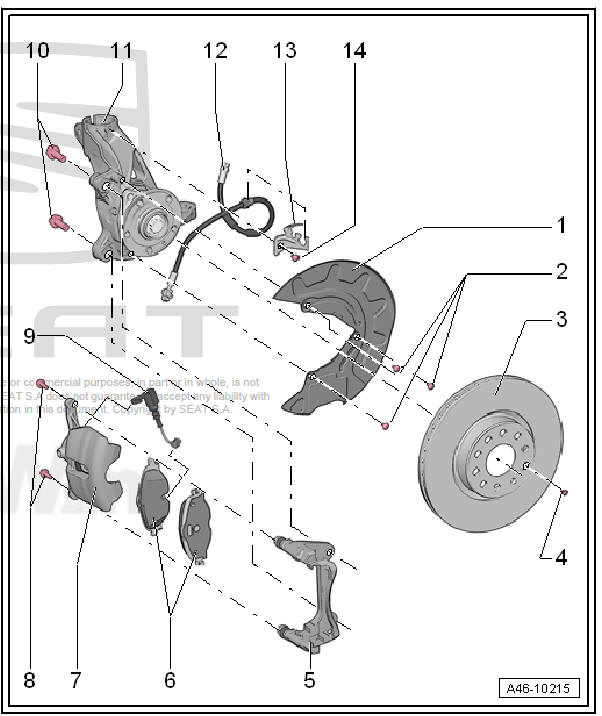 - Splash plate for brakes
- Bolt
- Brake disc

Interior lighting
Wear limit
Always replace by axles

- Bolt
- Brake back plate

Screw to wheel bearing housing

- Brake pads

With brake pad wear indicator
Wear limit
Check thickness
Always replace by axles

- Brake calliper

Do not disconnect brake hose when changing pads.

- Guide pin
- Brake pad wear cable

Only installed at front right

- Bolt

Brake carrier in wheel bearing
Renew
200 Nm

- Wheel bearing housing

Brake carrier is bolted on

- Brake hose with banjo union with banjo bolt

Ensure correct installation position
35 Nm

- Support
- Bolt
Installation location of brake pads:
Note make sure that the brake pads are fitted correctly. The arrow on the backplate (if provided) must point in the direction of forward rotation of the brake disc.
Installation position of brake hose with banjo union and banjo bolt
You have to make sure that the ring supports of the hoses are resting on the fixing point -arrow-.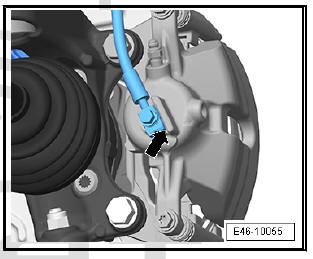 Assembly overview - Front brake, Brembo brake caliper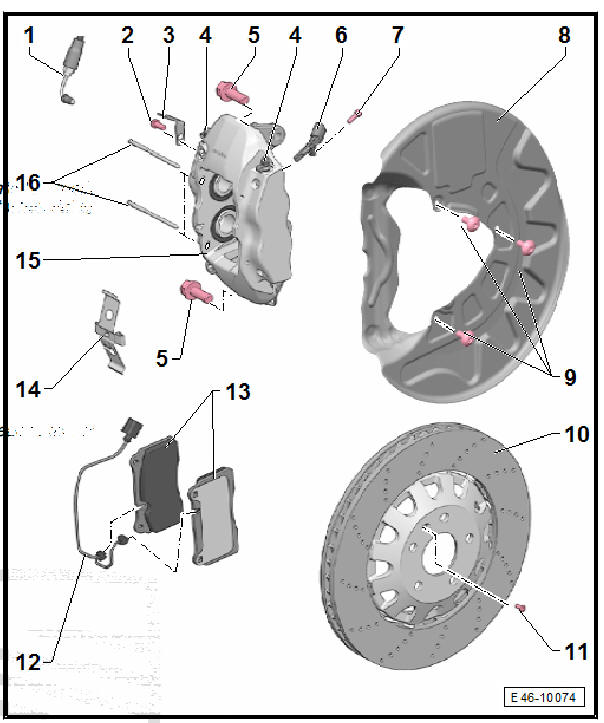 - Brake hose

Screw on to the brake clip
Hook into bracket
35 Nm
Note Ensure that hose is seated correctly in bracket. Do not twist when fitting

- Bolt
- Support
- Bleeder screw

13 Nm
Note Bleed brake caliper at each bleeder screw

- Bolt

Unscrew for removal of brake caliper
Renew
200 Nm

- Front speed sensor to part

Before inserting sensor, clean inner surface of hole and coat with hightemperature paste - G 052 112 A3- .

- Bolt
- Splash plate for brakes
- Bolt
- Brake disc

Interior lighting
Wear limit
Always replace by axles

- Bolt
- Brake pad wear cable

Only installed at the right brake calliper

- Brake pads

With brake pad wear indicator
Wear limit
Check thickness
Always replace by axles

- Retaining clip

Ensure correct installation position
Note Insert pad wear indicator wire in retaining clip. Only at the right brake calliper.

- Brake calliper

Note Do not suspend from brake hose after removal. Secure it to the body with a suitable wire.

- Brake pad retaining pins

Note Take care not to scratch or damage the brake pad during removal and installation
Removing and installing brake pads, brake caliper FS III Note Use brake filling and bleeding equipment - VAS 5234- to extract brake fluid from brake fluid reservoir. Special tools and workshop eq ...
See also:
Schematic overview - gearbox
- 1st gear - 2nd gear - 3rd gear - 4th gear - 5th gear - Gearbox casing cover - Gearbox housing - Reverse gear wheel - Selector mechanism (Gear change prongs) - Clutch ...