Seat Leon >> Exploded view - door components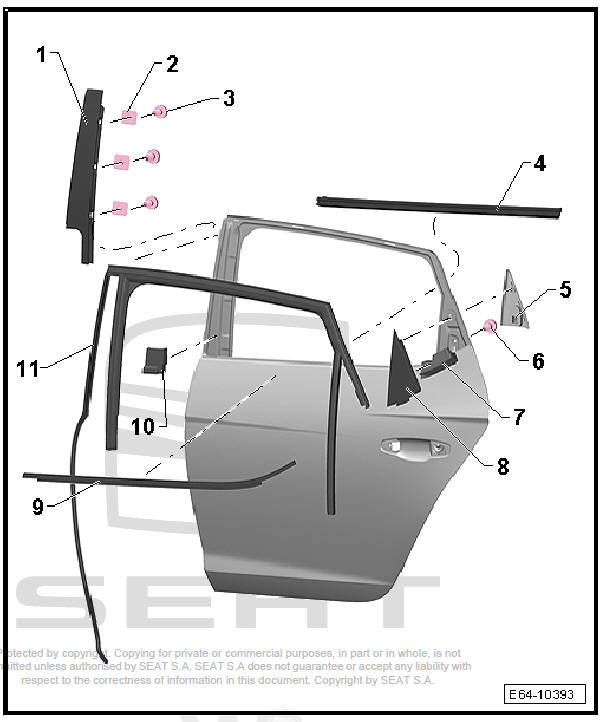 - Rear door B-pillar outer trim
- Spreader block
- Bolt.
- Interior window well joint
- Rear door C-pillar inner trim

Fixed to the door
With two fixing clips and damping foam
Removing and fitting

- Bolt.

For attaching the trim
2.5 Nm

- Insulating foam
- Rear door C-pillar outer trim

Fixed to the door
Removing and fitting

- Outer window slot seal
- Seal
- Window guide (rear door)
Exploded view - window regulator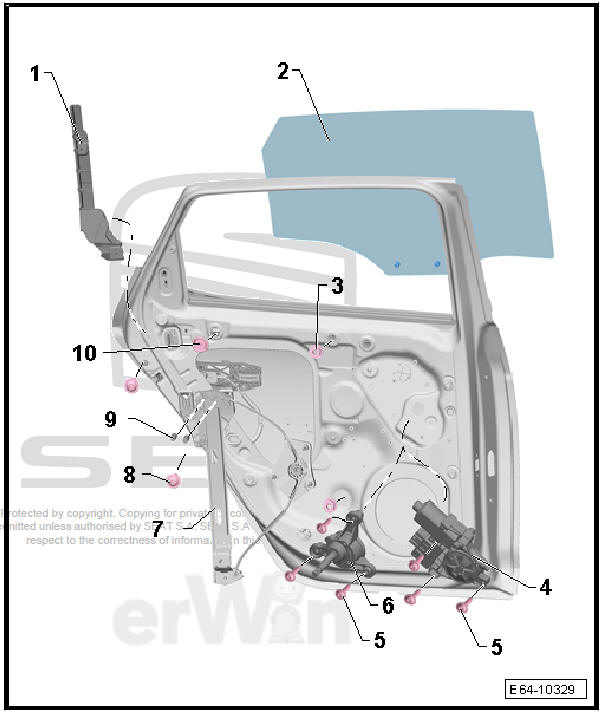 - Window guide bracket
- Rear door glass
- Nut
- Electric window riser motor

With controller mounted in the motor

- Bolt.
- Manual actuating mechanism

Only for mechanical window riser

- Window regulator
- Bolt.
- Window mounts
Comprising:
Expanding grommet
Expanding bolts
- Sealing plug
Exploded view - door handle and door lock (part I) - Cable for the outside handle (back door) Bowden cable - Anti-jam protection 1x Stuck to door panel - Backing plate ...
See also:
Roll-back function of the sliding/tilting roof*
Fig. 70 Detail of the sunroof: rotary button for sliding/tilting sunroof Fig. 71 Emergency closing handle The sliding/tilting roof has a roll-back function which prevents larger objects ge ...