Seat Leon >> Exploded view - door handle and door lock
Exploded view - door handle and door lock (part I)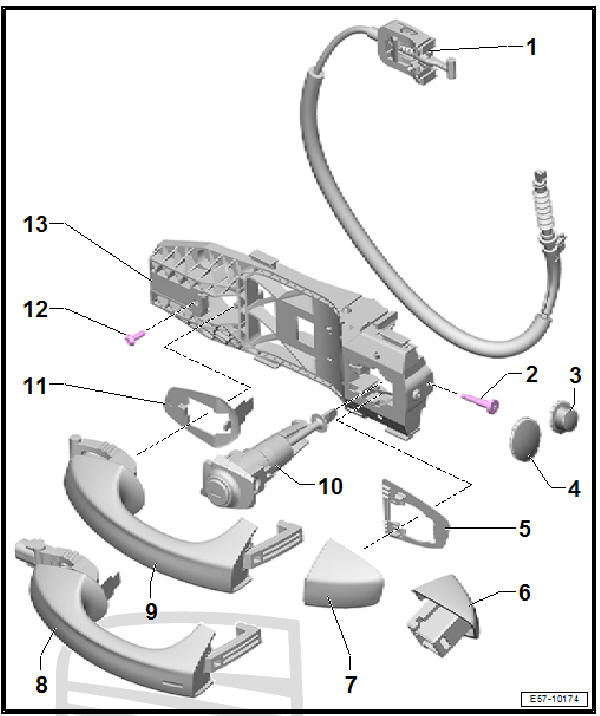 - Cable for the outside handle (front door)
- Bolt.

Driver side
For the lock cylinder
3.5 Nm

- Sealing plug
- Anti-jam protection
- Backing plate (rear)

For the seat of the lock cover of the outside handle or the locking cylinder

- Cover for the lock of the outside handle (front door)

Passenger side
Fixed via the locking bar on the mount of the outside handle

- Cover of the lock cylinder

Driver side
Clipped into the lock cylinder.

- Outside handle (front door) with Kessy system
- Outside handle (front door)
- Lock cylinder

Driver side
Complete this process when replacing a key

- Backing plate (front)

For the seat of the outside handle

- Bolt.
- Mount for the outside handle (front door)
Exploded view - door handle and door lock (part II)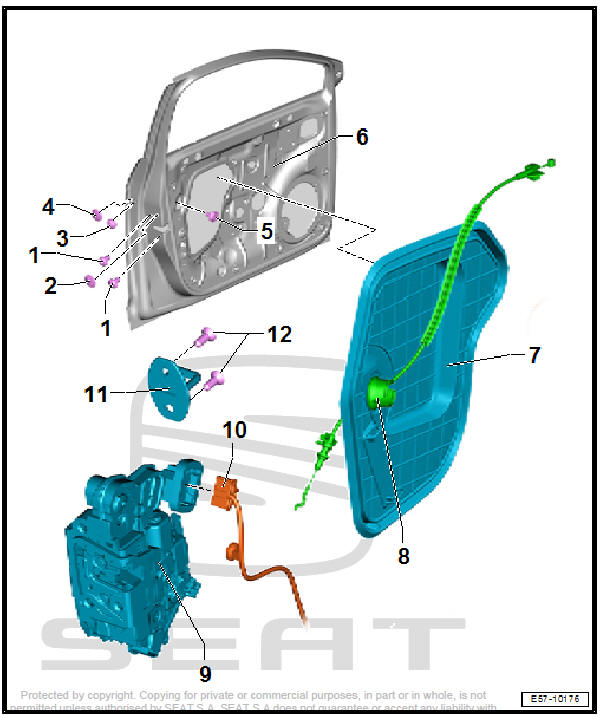 - Bolt.
- Sealing plug
- Sealing plug
- Anti-jam protection
- Bolt.
- Front door
- Inside protective cover
- Cable for the inside handle (front door)
- Door lock
- Door lock connector
- Striker plate
- Bolt.
- Spreader block 3 off - Bolt. 3 off - Front door window guide - Front door A-pillar outer trim Fixed to the door - Insulating foam Removing and fitting ...
Special tools and workshop equipment required Torque wrench - V.A.G 1331- Removing Installation Note The control unit of the front door is fixed in the door frame. Removing Rem ...
See also:
Tyre pressure monitoring system
System description - tyre pressure monitoring system General notes: The tyre pressure monitor display is part of the software in the ABS control unit - J104- . It detects the gradual reduction of ...