Seat Leon >> Gas shock absorber: removing and fitting
Removing
Fasten the tailgate with suitable equipment.
DANGER!
If the gas shock absorber is to be used again, take care. The elastic clips -2- should not project from the housing in case they become damaged. The damping would come out of the casing and could cause damage or injure the operator.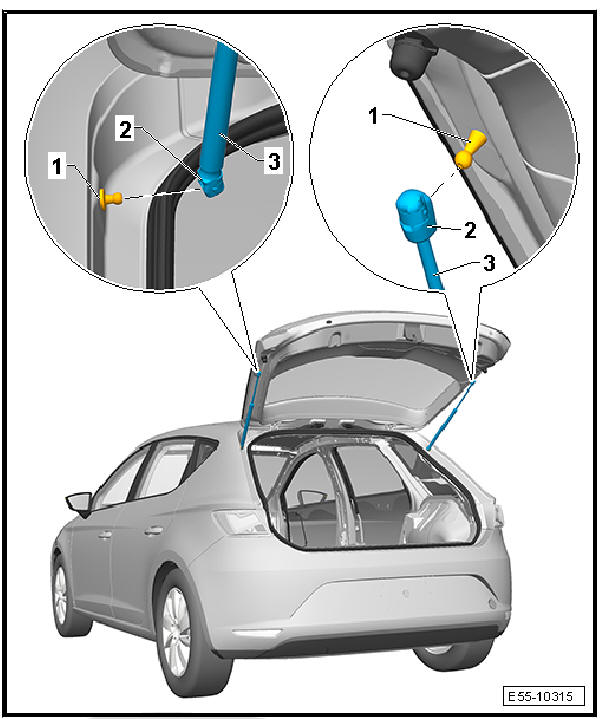 Lift the spring clips -2- with a screwdriver and remove the gas shock absorber -3- from the bolts -1-.
After removing the shock absorber -3- refit the elastic staples -2- in position.
fitting
Fit in reverse order from removal, remembering the following:
Note
After removing the gas shock absorber completely, make sure that it is fitted into the correct position.
The shock absorbing element must be fitted towards the side of the bodywork.
Releasing gas from gas strut
Clamp gas strut in vice in area x = 50 mm.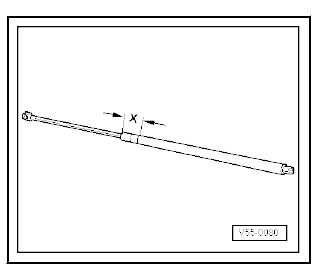 WARNING
The damper can only be fixed to the bench in this area, because any other position may lead to damage
Always wear safety goggles and leather gloves.
Note
Cover area of saw cut with a cloth.
Oil and cloths must be disposed of correctly.
- Cut the gas damper cylinder with a saw by the first third part of the total length of the cylinder, using the rod edge as reference.
Special tools and workshop equipment required Thrust piece - T20098- Removing Open the tailgate. Pull seal -1- off body flange. arrow-: vulcanised connection of the seal. fitting ...
Exploded view - tank flap unit - Tank filler flap locking motor - V155- - Fuel tank lid unit - Tank flap unit With securing tag - Trim panel Secured to cover of unit with ...
See also:
Navigation system
Overview - navigation system - GPS aerial - R50- in the centre of the dash panel - Display unit for front information display and operating unit control unit - J685- in the centre of the dash ...