Seat Leon >> Removing and installing tailgate seal
Special tools and workshop equipment required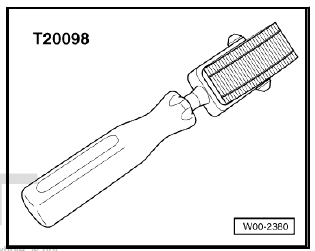 Removing
Open the tailgate.
Pull seal -1- off body flange.
arrow-: vulcanised connection of the seal.
fitting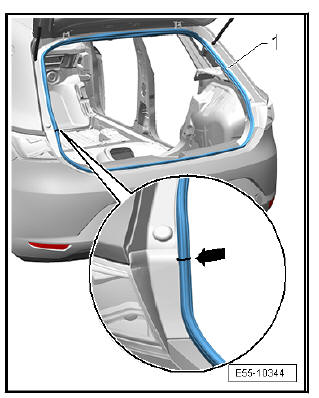 Note
When being installed in the production, the seals are coated with a sealing mass, placed in the flange and then put in position using the press tool - T20098- .
On removing the seal, the sealant spreads onto the interior of the seal and the sides open slightly. When reinstalling, the tightness nor the correct seating of the seal can be guaranteed.

Therefore each seal which is removed completely should be replaced by a so-called "tap-on" seal.

If the gaskets are pulled out partially, it is necessary to press the sides of the seal together before installing.
Temporarily place the seal on the bodywork flange. When doing so, keep in mind the following:

The vulcanised connection -arrow- must be aligned with the upper section of the light mount.

Start with the installation of the vulcanised connection -arrow- and then continue with the other sections of the seal -1-.
If the seal is positioned correctly on the bodywork flange, press in the seal over the entire perimeter using the press tool - T20098- .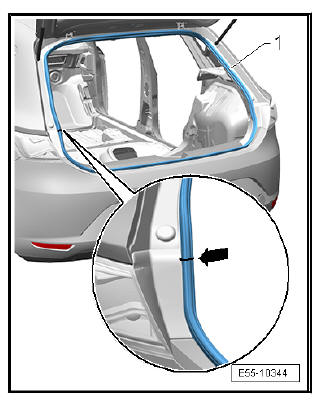 Special tools and workshop equipment required Torque wrench - V.A.G 1331- Release lever - 80 200- Removing Note The sequences below describe the processes for removal and installat ...
Removing Fasten the tailgate with suitable equipment. DANGER!If the gas shock absorber is to be used again, take care. The elastic clips -2- should not project from the housing in ...
See also:
Assembly overview - rear brakes
Rear brake - exploded view, brakes CI 38 for live axle and manual parking brake - Brake carrier bolt 90 Nm + 90Вє Renew - Wheel bearing housing Removing and installing ...