Seat Leon >> Gear selection mechanism: removing and fitting
Special tools and workshop equipment required
Torque wrenches - V.A.G 1331-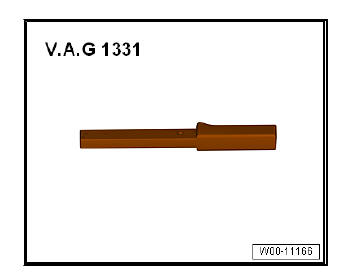 Removing
Disconnect battery .
Remove gear knob and gaiter .
Remove centre console mounting .
Remove noise insulation of protective housing.
Remove gear selector cable and gate relay lever with cable endpiece for gate selector cable
Remove circlip -1- for gear selector cable -2- from gearbox selector lever -3-. Pull cable-end piece for gear selector cable from the pins.
Remove cable end-piece for relay lever -4- together with relay lever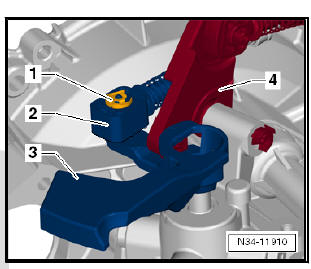 Remove cable support bracket from gearbox -arrows-.
Caution
Risk of damage to decoupling element at exhaust pipe.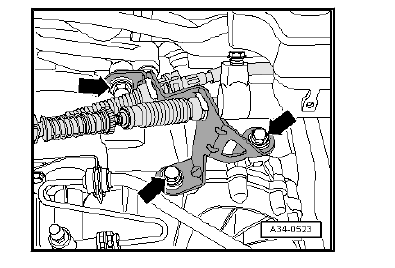 Remove the heat shield underneath the shift unit .
Swing down selector housing and remove together with control cables.
Installing
Installation is carried out in reverse order, noting the following:
Align selector housing parallel to body.
Distance to body must then be the same on both sides.
Bolt gear stick housing
Route cables -1- from selector mechanism -2- to gearbox as follows:

Cables must lie parallel to each other and must not cross.
The cables must be routed in the slot provided in heat shield -3-.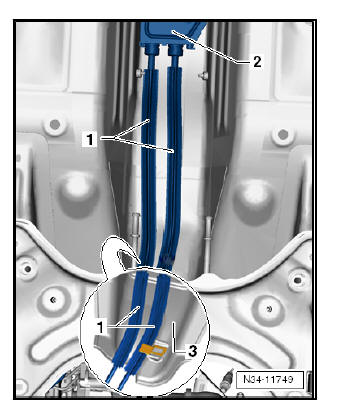 Clip -A- holds cables and heat shield together in position.
The holes on the cable securing elements have different diameters.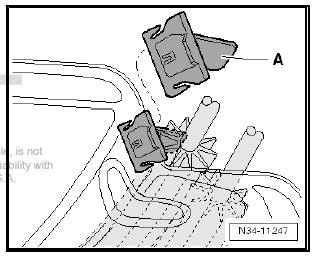 Allocation of cable end-pieces
Wipe off a small amount of grease on pin of gearbox selector lever -3- and the gate relay lever -4- .
For grease allocation, refer to - Electronic parts catalogue (ETKA) .
Renew securing clip -1- for the cable end-piece -2- after removing.
Install relay lever -4- and cable end-piece together.
Insert gate selector cable in cable end-piece on gate relay lever.
Install centre console mounting .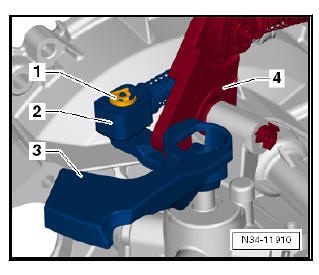 Adjust selector mechanism.
Install gaiter with selector knob.
Install heat shield of the centre tunnel.
Install battery tray if installed.
Connect vehicle battery.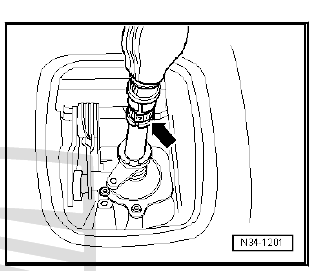 Specified torques
Selector housing to body
Selector cable support bracket to gearbox