Seat Leon >> Repairing steering box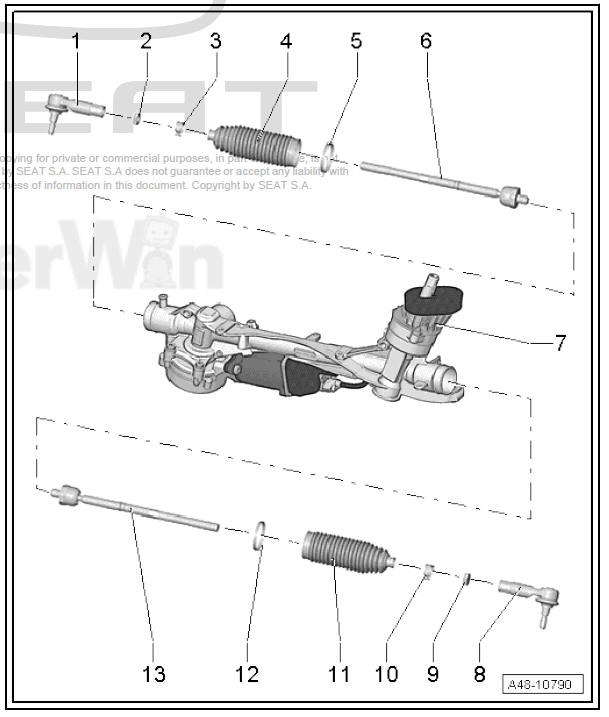 - Right track rod ball joint

Marked with "A"
Removing and installing
Installation position
Corresponding to - Electronic parts catalogue "ETKA"

- Nut

To tighten and loosen the nut it is necessary to block the ball joint with a spanner
70 Nm

- Clamp
- Dust guard

Must not be twisted after toe setting has been adjusted.
Removing and installing

- Clamp
- Connecting rod

Removing and installing
100 Nm

- Steering box

Corresponding to - Electronic parts catalogue "ETKA"
Removing and installing

- Left track rod ball joint

Marked with "B"
Removing and installing
Installation position
Corresponding to - Electronic parts catalogue "ETKA"

- Nut

To tighten and loosen the nut it is necessary to block the ball joint with a spanner
70 Nm

- Spring type clamp
- Dust guard

Removing and installing
Check for damage
Must not be twisted after toe setting has been adjusted.

- Clamp

Always renew after removing
Secure new hose clip using locking pliers for steering box - VAS 6199-

- Connecting rod

Also replace the ball joint if damaged
Removing and installing
100 Nm
Sensors
Removing and installing steering angle sender - G85-
Note
The steering angle sender - G85- is a component of the steering box.
It cannot be replaced separately.
When the steering angle sender - G85- is defective, the steering box must be replaced.
Special tools and workshop equipment required Ball joint puller - T10187- Torque wrenches - V.A.G 1332- Removing Remove front wheel on affected side. Loosen nut -1-. Mark posi ...
See also:
Warnings on handling the battery
WARNING Always be aware of the danger of injury and chemical burns as well as the risk of accident or fire when working on the battery and the electrical system: • Wear eye protection. Protect ...