Seat Leon >> Front axle camber: correction
Special tools and workshop equipment required
Torque wrenches - V.A.G 1332-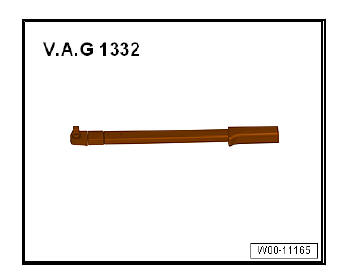 Note
Camber correction is necessary only after body repairs. Camber cannot be adjusted. It can be determined however, by moving the subframe slightly!
Move subframe only to left or right, but never in or opposite to direction of normal travel!
Remove noise insulation.
Undo bolt -1- and screw a new one in loosely.
Undo bolt -2- and screw a new one in loosely.
Undo bolt -3- and screw a new one in loosely.
Undo bolt -4- and screw a new one in loosely.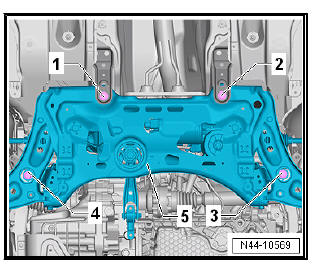 The camber adjustment range is limited by the tolerances of the holes in the subframe. If the specified value is not reached by shifting the subframe, this and the body must be inspected.
Now camber may be adjusted to specification by moving subframe.
Move subframe -5- sideways until camber is the same on both sides.
Tighten subframe bolts -1-, -2-, -3- and -4-.
After shifting the subframe, clearance between the steering column universal joint and the cut-out in the bulkhead must be checked.
Unscrew bolt -1- and fold footwell covering -2- in direction of arrow towards vehicle interior.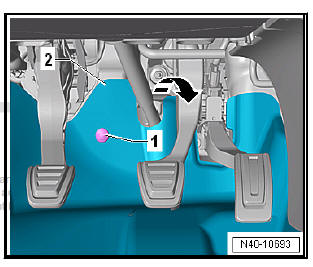 There must be a clearance of 5 mm all round between universal joint -1- and cut-out in bulkhead -2-.
Specified torques
Bolts for noise insulation .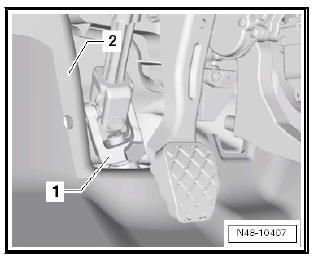 Overview - wheel alignment procedure Note The vehicle must always be in unladen condition when measuring wheel alignment. Operations should be carried out in the order shown! - Drive vehicle o ...
Adjusting camber on rear axle, torsion beam axle Camber cannot be adjusted. If the measurements are outside the permitted tolerances, check the axle beam for damage and renew if necessary. Adju ...
See also:
Description of front airbags
The airbag system is not a substitute for the seat belts. Fig. 17 Driver airbag located in steering wheel Fig. 18 Front passenger airbag located in dash panel The front airbag for the driver ...