Seat Leon >> Instrument cluster
Installing and removing the KX2 dashboard instrument cluster
Special tools and workshop equipment required
Lever for the front-end - 3370-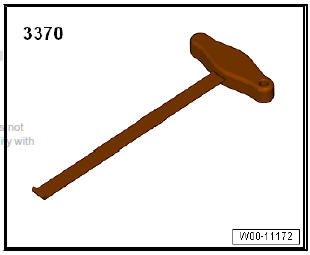 Note
All control lights in the dashboard instrument cluster are equipped with LEDs. LEDs cannot be renewed separately if defective.

The instrument cluster must be renewed.

The dash panel insert must not be dismantled.
When removing dash panel insert, it is not necessary to remove steering wheel.
Removing
Switch off ignition and all electrical consumers.
Vehicles without access and start authorisation system
Remove ignition key, if fitted.
Vehicles with access and start authorisation system
Store the ignition key outside the vehicle to prevent the ignition from being switched on unintentionally.
Continued for all vehicles
Move steering wheel down and to rear as far as possible, making use of full range of steering column adjuster.
Remove the trim of the dash panel insert using the lever for the front end - 3370- at the points shown -arrow-.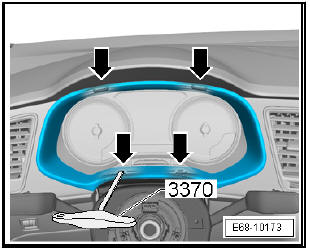 Unscrew bolts -arrows-.
Pull out dash panel insert -1- until it makes contact with steering wheel.
Disconnect connector.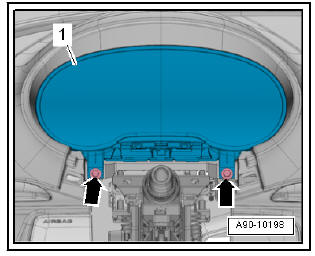 Unplug electrical connector by releasing catch -1- and moving retaining clip in direction of -arrow-.
Take out dash panel insert towards front passenger side between steering wheel and dash panel.
Installing
Installation takes place in reverse order.
Specified torques
Tightening torque of the dash panel insert screws: 2.5 Nm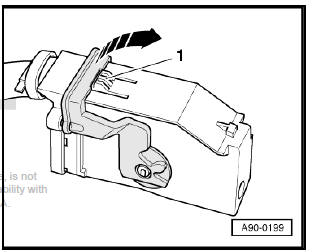 See also:
Changing the rear wiper blade
A good rear wiper blade is essential for clear rear vision. Damaged wiper blades should be replaced immediately. Fig. 149 Changing the rear window wiper blade Removing the wiper blade – Lif ...