Seat Leon >> Check condition of sealing cap and natural gas filler connection, clean if necessary and check seal
Open tank flap and remove protective cap from natural gas filler neck.
Check the presence and condition of the sealing ring -1-.
Check natural gas filler neck for dirt, damage and surface corrosion.

Clean natural gas filler neck ONLY from outside.

If the filler neck is dirty, clean off dirt using compressed air.

The filler neck will not be damaged as a result.

If corrosion is found on the surface of the natural gas filler neck, remove it using a lint-free cloth.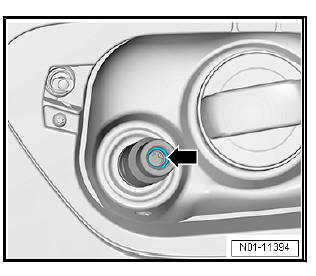 Warning triangle: Check if fitted
Fitting location:
Procedure:
Check that the warning triangle(s) is/are in the intended place.
First aid kit: check and make a note of the expiry date
Fitting location:
Procedure:
Remove the first aid kit and check the printed expiry date
Enter the expiry date in maintenance table.
In case the use-by date has been expired: Replace the first aid kit.
Seat belts: Check the completeness of the rivets and locking device of the automatic belt retractors
Procedure:
For all seat belts:
Check that the rivets or clamps are in their intended places.
Check the locking mechanism of the automatic belt retractors upon sudden pulling on the belts.
NOTICE if objects have been fastened using the seat belt (a child seat, for example): Do not release the seat belt! Only check the locking mechanism with the seat belt fastened! In this case it is not necessary to check the rivet or clamp!
Vehicle tool kit: Check the completeness of the components relevant in the event of a breakdown
Fitting location:
The vehicle tool kit and the jack are in the luggage compartment, either underneath the luggage compartment floor or behind one of the side panels.
Procedure:
Check that the jack and the hand wheel are in the vehicle.
Check that the following components of the vehicle tool kit are complete:

Spanner for the wheel bolts
Adapter for the anti-theft wheel bolts
Puller hooks
Pliers
Towing eye

Replace the missing elements.
Special tools and workshop equipment required Gas leak detector for natural gas vehicles - VAS 6227- Mirror Lamp - VAS 6901- CAUTIONFor reasons of safety, service and mainten ...
NOTICE A data connection via WiFi or via SIM is not necessary to establish the connection to the smartphone using Full Link. However, in order for all features of the applications to be available ...
See also:
Engine oil and oil filter: replace
CAUTIONFor the Russian market only. Due to climate conditions and fuel quality, the following engine oil must always be used in the Russian market for the 1.8l TSI and 2.0l TSI petro ...