Seat Leon >> Engine oil standards
WARNING
Only SEAT approved engine oils must be used; see applicable data under - ServiceNet, Documentation, Vehicle Engineering, Approved Engine Oils .

7) Longlife oil can be used in engines without set or with deactivated Longlife service.
Engine oil filling capacities
NOTICE Note that the data indicated in the engine oil filling capacities table is approximate.
Petrol engines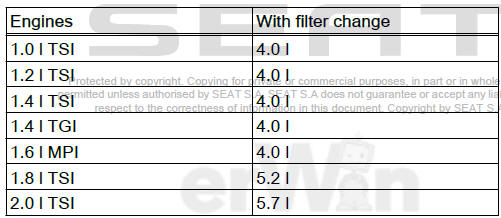 Diesel engines

Special tools and workshop equipment required Oil filler funnel - VAS 6842- The engine is filled ex factory with a high-quality multi-grade oil, which with the exception of extremely cold cl ...
Preconditions: Engine oil temperature min. 60 ВєC Vehicle standing on a flat surface After shutting off engine, wait at least 3 minutes so that the oil can flow back into the sump. ...
See also:
Assembly overview - output shaft
Note When installing new gears or new input shaft, refer to - Electronic parts catalogue (ETKA) and technical data. Install all bearings, synchromeshed gears and synchro-rings on output ...