Seat Leon >> Windscreen wiper blades: removing and fitting
Removing
NOTICE In case the motor of the windscreen wiper has to run during work, the front bonnet must be closed completely otherwise the voltage supply to wiper motor is cut-off.
WARNING If there is a risk of frost, first check that the wiper blades are not frozen onto the glass.
Switch on ignition briefly and then switch off.
Operate "touch wipe" function within 10 seconds.
The wipers will run to the "service position".
WARNING
Danger of damaging the bonnet in case the windscreen wipers move back to the home position.
Do not steer the vehicle when the windscreen wiper arms are aligned.
The wipers automatically run back to the park position when the wiper switch is operated or when road speed exceeds 6 km/h.
Raise the windscreen wiper arm and fit the blade in the position as shown in the figure.
Press retaining clip -arrow A- and slide wiper blade -1- off wiper arm -2- -arrow B-.
Remove the wiper blade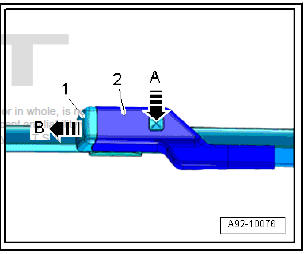 Installation
WARNING Risk of damage to body.
The wiper blades for driver's and front passenger's side have different lengths.
Installation is carried out in the reverse order; noting the following in the process:
Insert the wiper blade -1- into wiper arm -2- in parallel position -arrow-. Insert the wiper blade far enough that you can hear the retaining clip engage with the wiper arm.
In order to leave the "service position" operate the switch of the windscreen wiper or drive the vehicle faster than 6 km/h.
Lower the blade and rest the windscreen wiper arm on the windscreen again.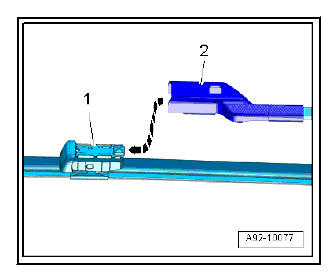 Switch on the ignition. Actuate brief wipe function and allow wiper motor to move to the parking position. Switch off ignition and remove ignition key. Position wiper blades on windscreen a ...
Special tools and workshop equipment required Torque wrench - VAG 1331- Switch on the ignition. Activate the rear window washer and ensure the wiper arm reaches the resting position. ...
See also:
Removing and installing rear door window
Special tools and workshop equipment required Torque wrench - V.A.G 1331- Wedge - 3409- Removing Installation Note The sequences below describe the processes for removal and inst ...