Seat Leon >> Windscreen wiper arms: check park position
Switch on the ignition.
Actuate brief wipe function and allow wiper motor to move to the parking position.
Switch off ignition and remove ignition key.
Position wiper blades on windscreen and align as follows:

a - 21 + 10 mm
b - 26 + 10 mm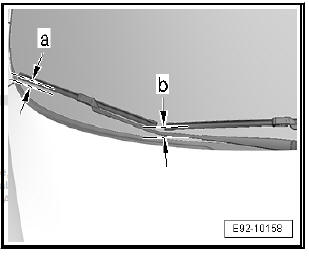 NOTICE The dimensions correspond to the distance between the windscreen wiper blades and the air duct on the water box at bottom edge of windscreen.
In case there are no markings for aligning the windscreen wipers, use the dimension shown in the illustration to carry out the setting.
If necessary, adjust the windscreen wiper brushes
Eliminate the wiper scratching
Possible causes for a scratch in the windscreen wiper:
Scratched glass
Rubber brushes, loose or deteriorated.
Wiper arms / blades, loose or bent
Brushes, with wax or uneven
If none of the reasons for the complaint "of the windscreen wiper causing scratching noises" is specified above apply, before replacing the windscreen wiper blades, check the working angle of the wiped blade and set if necessary.
The following instructions apply for the headlight on the right side (perform the adjustment of the headlight on the left side in the same way). Check the nozzle setting Switch on the dipped be ...
Removing NOTICE In case the motor of the windscreen wiper has to run during work, the front bonnet must be closed completely otherwise the voltage supply to wiper motor is cut-off. WARNING ...
See also:
Selector lever positions
Fig. 118 Section of centre console: selector lever on cars with an automatic gearbox / direct shift gearbox Selector lever positions indicated on the cover P Parking position (lever locked). ...