Seat Leon >> Spray jet of rear window: check and, if necessary, adjust function
Special tools and workshop equipment required
Crown wheel adjusting tool - T40187-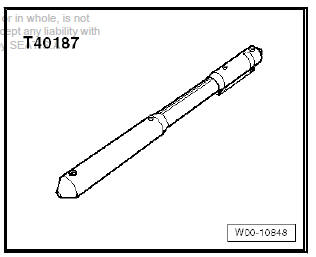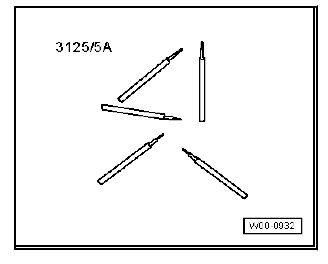 Checking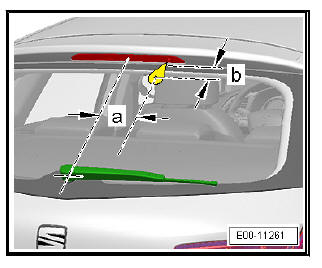 Compare the water jet of the nozzle with the value calculated, adjust if required.

Adjusting
NOTICE In versions with "rear spoiler" the ejector cannot be adjusted
DANGER
If the adjustment tool - T40187- is not used then make sure that both sides are covered and fixed with the covers -3- and -4-.
If one of the sides are not protected by the cover, there is a risk of injury from the Needle - 3125/5A- -1- or with an adjustment pin -2-.
When opening from the respective side, always make sure that the opposite side is not pointing toward the hand.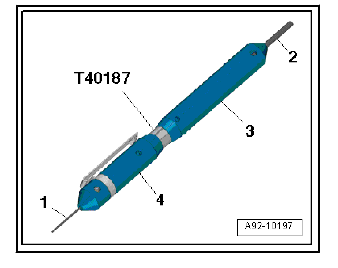 Unlock the shorter cover -1- of the adjusting tool - T40187- -arrow A- and push to the back -arrow B-.
Using the adjusting tool - T40187- , adjust the spray nozzle so that the water jet hits the point indicated above the rear window wiper.
NOTICE The outer water jet of the windscreen washer hits the position zero precisely on the window.
When the water jet does not meet the requirements, the dirt attached to the nozzle must be removed.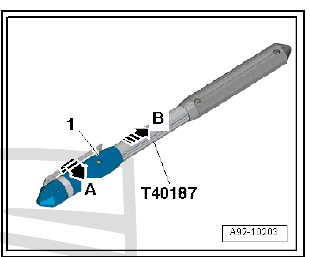 Special tools and workshop equipment required Crown wheel adjusting tool - T40187- Needle - 3125/5A- Checking Using a washable crayon, mark the 6 points on the windscreen accord ...
The following instructions apply for the headlight on the right side (perform the adjustment of the headlight on the left side in the same way). Check the nozzle setting Switch on the dipped be ...