Seat Leon >> Exploded view - lock carrier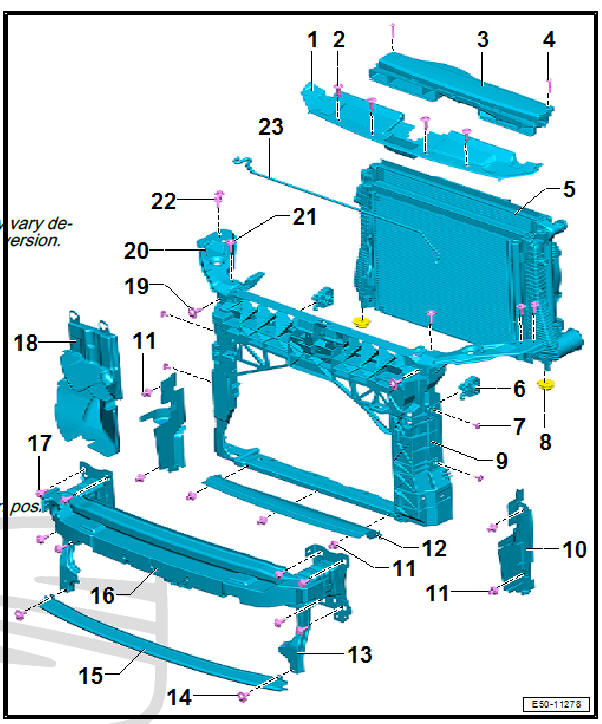 Lock carrier cover
Expansion rivet
Intake ducting
Note The intake air duct may vary depending on the engine version.
Bolt.

2 off
To secure the intake air duct
2+- 0.3 Nm

Radiator assembly
Radiator mount bracket
Note Note correct installation position.
Bolt.

2 + 2 each
For fixing and controlling the lock carrier position.
8 Nm

Bracket (bottom)
Lock carrier
Air duct
Expansion rivet

4 + 4 each
For fixing the air ducts for the radiator

Air duct

Bottom
Affixed to the lock member using expansion rivets

Impact bar
Bolt

1 + 1 each
For affixing the pedestrian protection crossbeam to the impact bar

Protective support for pedestrians
Shock absorber
Bolt.

4 + 4 each
55 Nm
For securing the impact bar

Auxiliary radiator air duct

Depending on version
Right.
Depending on the version, an auxiliary radiator air duct can be fitted on the left side on vehicles with automatic gearboxes

Bolt.

1 + 1 each
For attaching the strut
8 Nm

Lock carrier struts
Bolt.

1 + 1 each
For attaching the strut lock member
8 Nm

Bolt.
Front bonnet support rod
Assembly overview - cylinder head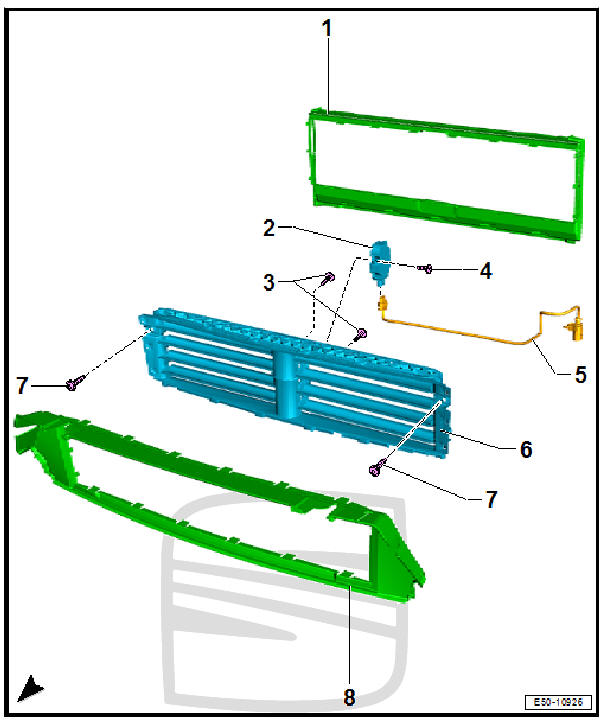 Rear fairing
Cooler shutter servomotor - V544-
Bolt.
Bolt.
Wiring harness
Blade module
Bolt.
Front fairing
Special tools and workshop equipment required Counterhold - T10038- Centre guide - T10093- Release lever - U30800- Torque wrench - V.A.G 1331- Release lever - 80 20 ...