Seat Leon >> Removing and installing refrigerant circuit pressure sender - G805-
WARNING
Danger from refrigerant escaping under pressure! Freezing of skin and other body parts.
If when loosening the G805 refrigerant escapes for more than 1 second from the coolant line, the G805 must be retightened. The non-return valve in the refrigerant line is defective and must be replaced.
Evacuate the refrigerant and then open the refrigerant circuit immediately.
If more than 10 minutes have elapsed since evacuation and the coolant circuit has not been opened, evacuate the refrigerant again. Pressure builds up in the coolant circuit as a result of secondary evaporation.
Removal:
Detach the electrical connector -2-.
Screw out the pressure sender -1-.
Installing
Install in reverse order of removal; note the following.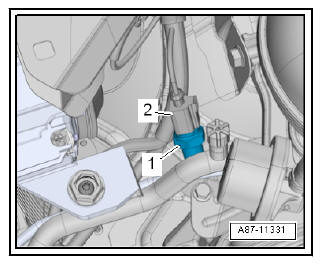 Note Renew O-ring seal.
Condenser, receiver - Condenser Removing and fitting - O ring Replace Moisten with refrigeration oil before fitting - Refrigerant piping - Bolt. 8 Nm - B ...
Special tools and workshop equipment required Air conditioner service station Engine bung set - VAS 6122- Removal: Turn off the ignition and all electricity consumers. Vehicles witho ...
See also:
Removing and installing brake calliper
Removing and installing brake calliper, vehicles with manual parking brake Note Use brake filling and bleeding equipment - VAS 5234- to extract brake fluid from brake fluid reservoir. Before ...