Seat Leon >> Fitting location overview - lights in dash panel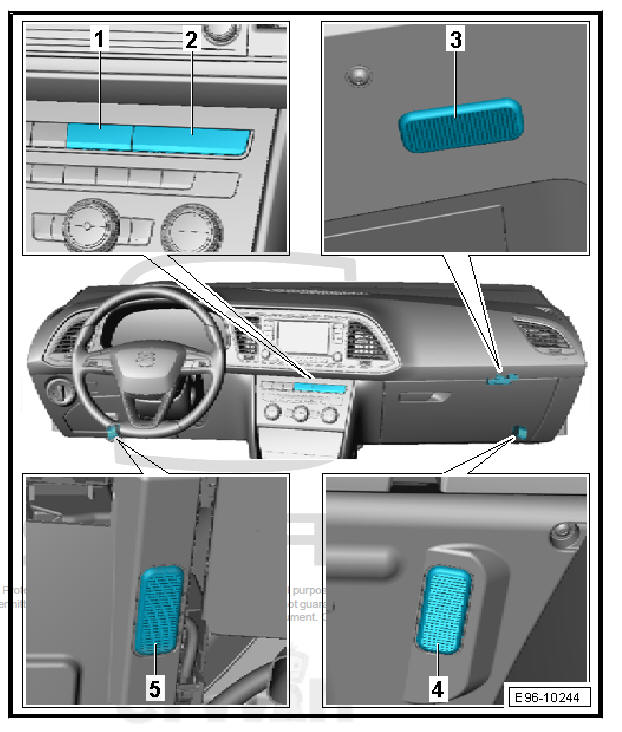 - Indicator lamp for hazard warning light - K6-
- Warning lamp for airbag deactivated on front passenger side - K145- / front passenger side airbag deactivated warning lamp - K286-
- Glove compartment light - W6-
- Right footwell light - W10-

In the right footwell light - W10- with LED, the light must be replaced if there is a defect.
Removal and installation
Renewing bulb

- Left footwell light - W9-

In the left footwell light - W9- with LED, the light must be replaced if there is a defect.
Removal and installation
Renewing bulb
Fitting location overview - lights in front doors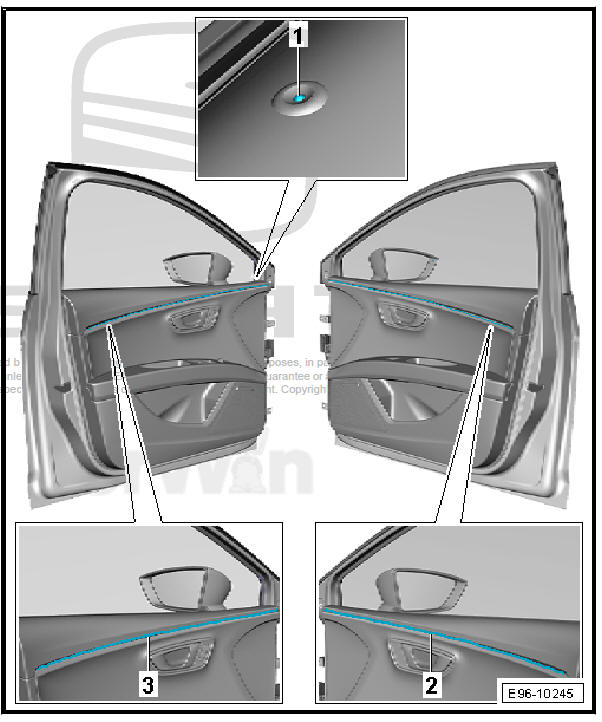 - Central locking deadlock function warning lamp - K133-
- Light for passenger door ambient lighting - W87-
- Background lighting assembly on driver door - W86-
Overview of fitting locations - lights in centre console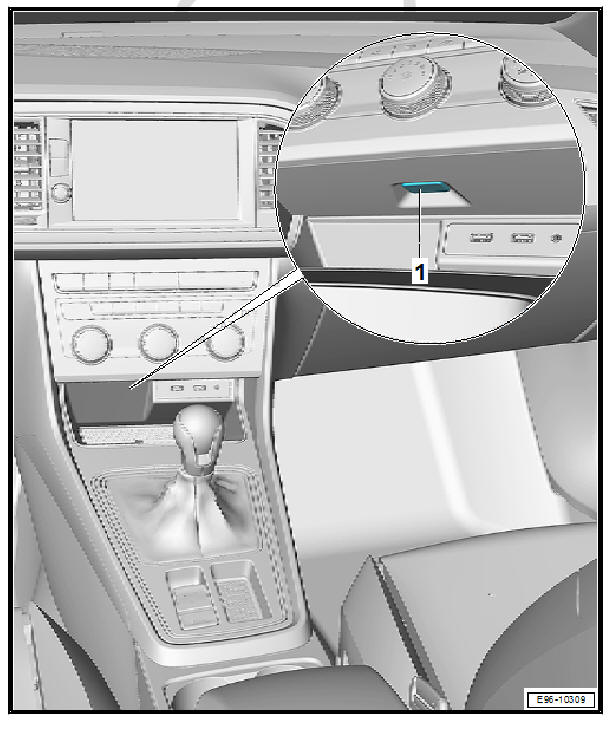 - Storage compartment illumination bulb - L120-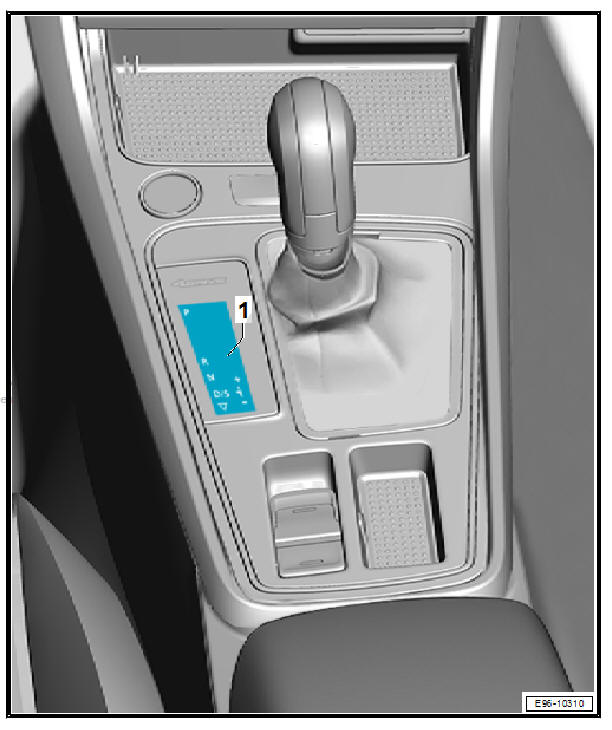 - Selector lever position display - Y26-
Fitting location overview - lights in luggage compartment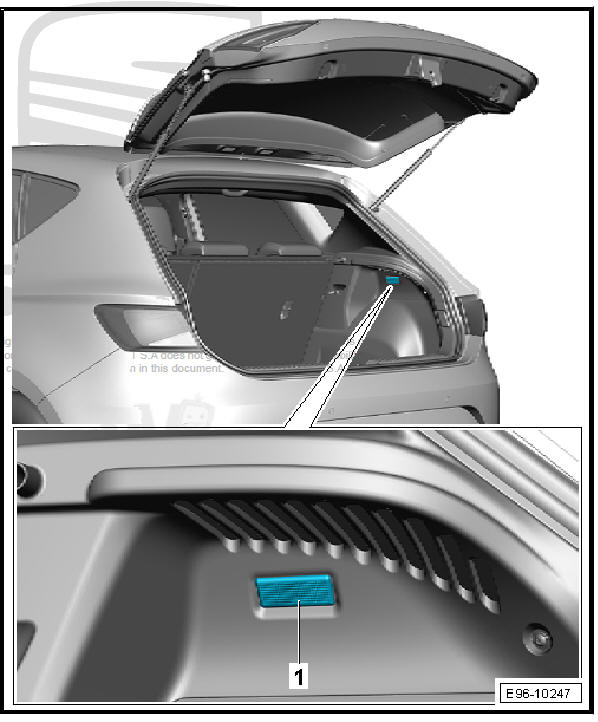 - Luggage compartment light - W3-

In the luggage compartment light - W3- with LED, the light must be replaced if there is a defect.
Removal and installation
Fitting location overview - lights in roof trim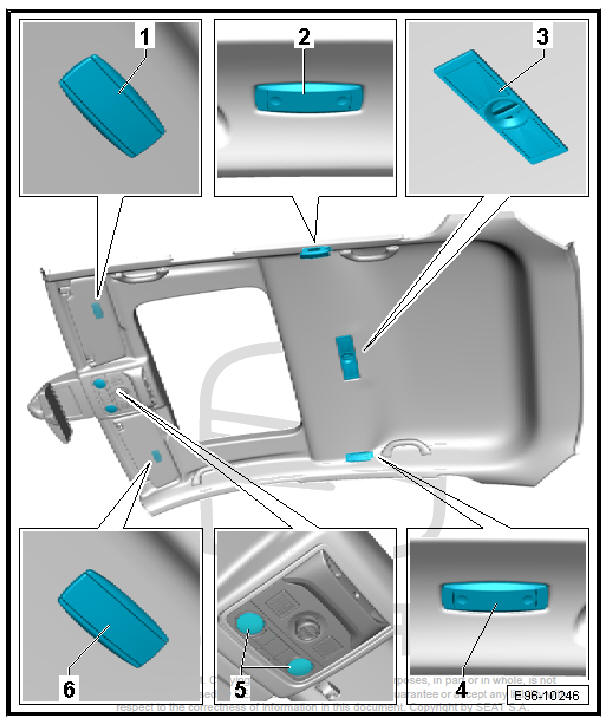 - Driver side illuminated make-up mirror - W20-

In the illuminated makeup mirror on the driver's side - W20- with LED, the light must be replaced if there is a defect.
Removal and installation

- Rear left interior light - W47-

In the left rear interior light - W47- with LED, the light must be replaced if there is a defect.
Removal and installation

- Rear interior light - WX2-

In the rear interior light - WX2- with LED, the light must be replaced if there is a defect.
Removal and installation

- Rear right interior light - W48-

In the right rear interior light - W48- with LED, the light must be replaced if there is a defect.
Removal and installation

- Front interior light - WX1-

In the front interior light - WX1- with LED, the light must be replaced if there is a defect.
Removal and installation
Replace bulb for passenger reading light. - W13-
Replace bulb for driver's side reading light. - W19-

- Front passenger side illuminated vanity mirror - W14-

In the illuminated make-up mirror on the passenger's side - W14- with LED, the light must be replaced if there is a defect.
Removal and installation
Special tools and workshop equipment required Lever - U30800- Note For removing and installing of components located in a visible zones (switches, covers, linings, etc.) always protect the ...
See also:
Removing and installing heat exchanger
Heat exchanger: removing and installing; manufacturer, Valeo Note There are different designs and makes of heater and air conditioning unit. The individual components of the various heaters and a ...