Seat Leon >> Assembly overview - drive shaft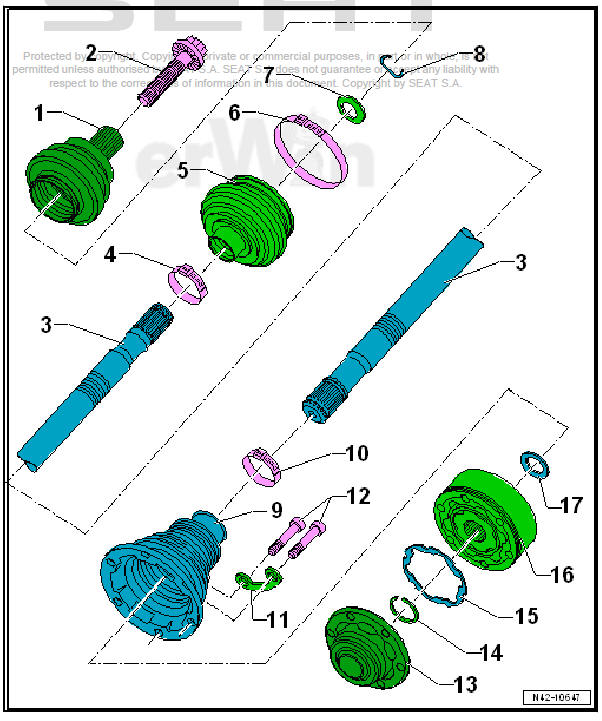 - Outer constant velocity joint

Always replace completely
Removing
Installing: drive ontoshaft as far as stop usingplastic hammer
Distribute grease fillingevenly in joint
Checking

- Bolt

Always renew after removing
Before securing, cleanthe threads in the CVjoint using a thread tap
200 Nm +180Вє

- Drive shaft
- Clamp

Always renew after removing
Tightening

- Dust guard

Check for splits andchafing
Material: Hytrel (Polyelastomer)

- Clamp

Always renew after removing
Tightening

- Dished spring

With internal groove
Installation position

- Securing ring

Always renew after removing
Insert in groove in shaft

- Dustguard for constant velocity joint

Material: Hytrel (Polyelastomer)
Without breather hole
Check for splits and chafing
Drive off constant velocity joint with a drift
Coat sealing surface of constant velocity joint with -D 454 300 A2- before installing.

- Clamp

Always renew after removing
Tightening

- Locking plate
- Internal splined bolt

Always renew after removing
Pre-tighten diagonally to 10 Nm and then tighten completely diagonally to the respective tightening torque.
40 Nm

- Cover

Always renew after removing
Always renew
Pressing off

- Securing ring

Always renew after removing
Remove and install with circlip pliers - VW 161 A-

- Seal

Always renew after removing
The surface that is attached to the constant velocity joint should be free of grease and oil

- Inner constant velocity joint

Always replace completely
Distribute grease filling evenly in joint
Pressing off
Insertion
Checking

- Dished spring

With internal groove
Installation position
Special tools and workshop equipment required Torque wrenches - V.A.G 1332- Puller - T10520- CautionWhen removing and installing drive shafts, do not allow them to hang ...
See also:
Correct adjustment of front seat head restraints
Properly adjusted head restraints are an important part of occupant protection and can reduce the risk of injuries in most accident situations. Fig. 3 Properly adjusted head restraint viewed fr ...