Seat Leon >> Disconnecting and reconnecting battery
Caution
Observe the following instructions and precautions on safety when working on pyrotechnic components:
When working on pyrotechnical components (such as the airbag, belt tensioner), the battery must be disconnected in a different manner as described below if the ignition is on - Safety note: safety measures for work with pyrotechnical components .
Special tools and workshop equipment required
Torque wrenches - V.A.G 1783-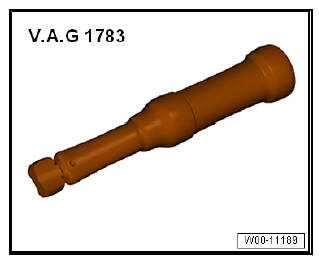 Disconnecting
Note
By disconnecting the earth strap (power interrupted), safety is guaranteed while working on the electrical system.
The battery positive only needs to be disconnected if the battery is to be removed.
The earth strap must not be disconnected from the bodywork.
Removing
Switch off ignition and all electrical consumers.
Vehicles without access and start authorisation system
Remove ignition key, if fitted.
Vehicles with access and start authorisation system
Store the ignition key outside the vehicle to prevent the ignition from being switched on unintentionally.
Continued for all vehicles
Open the cover of the battery cover.
Open cover -1- over negative battery terminal.
Slacken off nut -3- several turns and disconnect battery clamp -2- of earth cable from battery terminal.
Vehicles with start / stop system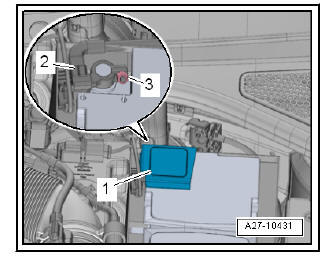 Disconnect the connector -1- on the control unit for monitoring the battery - J367- -2-.
Slacken the fixing nut -4- and disconnect the control unit for monitoring the battery - J367- -2- from the negative terminal -3-.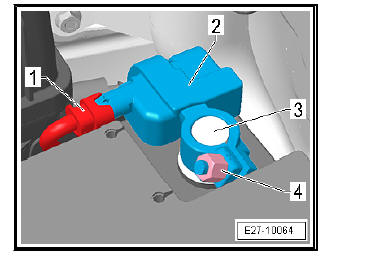 Connecting
Installation is carried out in the reverse sequence; note the following:
Activate the automatic open / close function of electric window lifters .
Connecting vehicle diagnosis tester .
Call up and delete the event memory .
Note After re-connecting the power supply, the ESP warning lamp may not go out until the vehicle has been driven a few metres.